Modern boho farmhouse style is not a combination many are doing yet.
But I love it! And I have been embracing it for quite some time already.
Let's chat for a second about what modern boho + farmstyle really is.
Modern Boho
Click HERE to save this for later.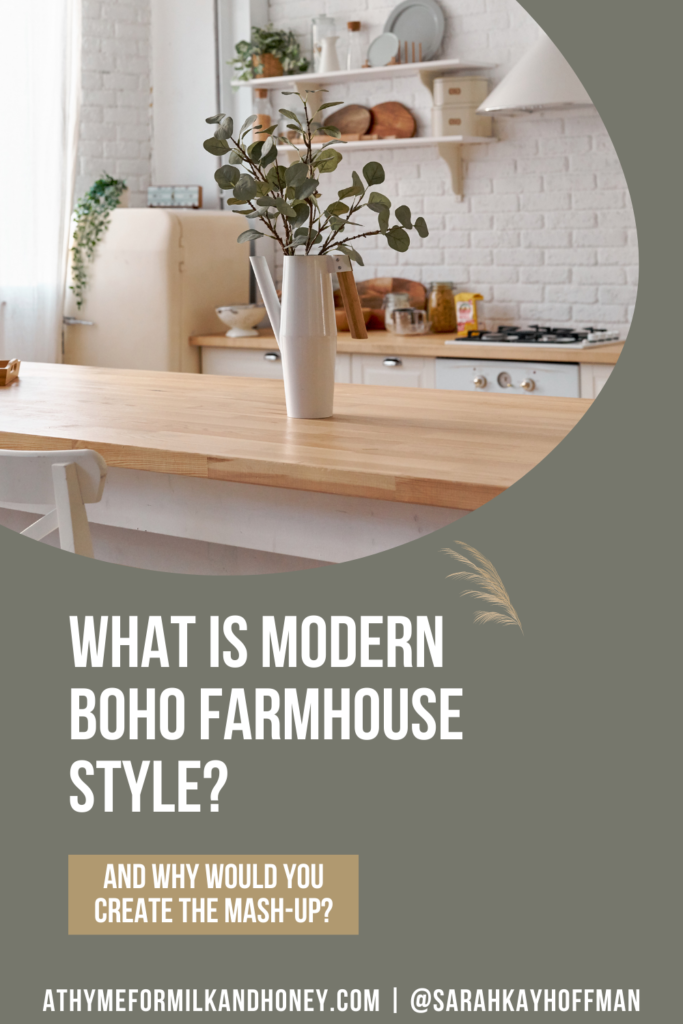 I noted that HGTV also uses "urban boho" with modern boho. For the purposes of the definition, I'll run with this.
To that end, HGTV states,
Unlike straight-up boho spaces which can sometimes feature a color explosion, urban boho spaces tend to make use of a tighter color palette.
My style is definitely not a color explosion. I like a tight color palette mixed with neutral colors.
Even MODSY states,
Contrary to what you might think, boho interior design can be subtle. Here, minimalism meets boho in its mix of clean lines, calming neutral hues, natural textures, and warm woods.
So when I claim modern boho, this is what I'm talking about.
Now, there is a little twist to this look.
I add in farmstyle because if I had to choose one style, farmstyle would be my top choice.
And yes, I totally got that from Mom and Dad.
Farmhouse Style
Obviously most people know what farmhouse style is. I mean, Joanna Gaines is the biggest thing since sliced bread, yes?
One of my favorite farmhouse style blogs is Thistlewood Farms.
Karianne gives farmhouse style this definition,
To me farmhouse means home.
And kicking off your shoes.
Sweet tea.
And chalkboards and measuring cups and burlap curtains and old chippy signs from the side of the road and mismatched chairs.
The dictionary has the most basic definition, "a dwelling on a farm."
So with those varied terms and styles, how did I come to love the modern boho farmhouse style so deeply?
Modern Boho Farmhouse Style Inspiration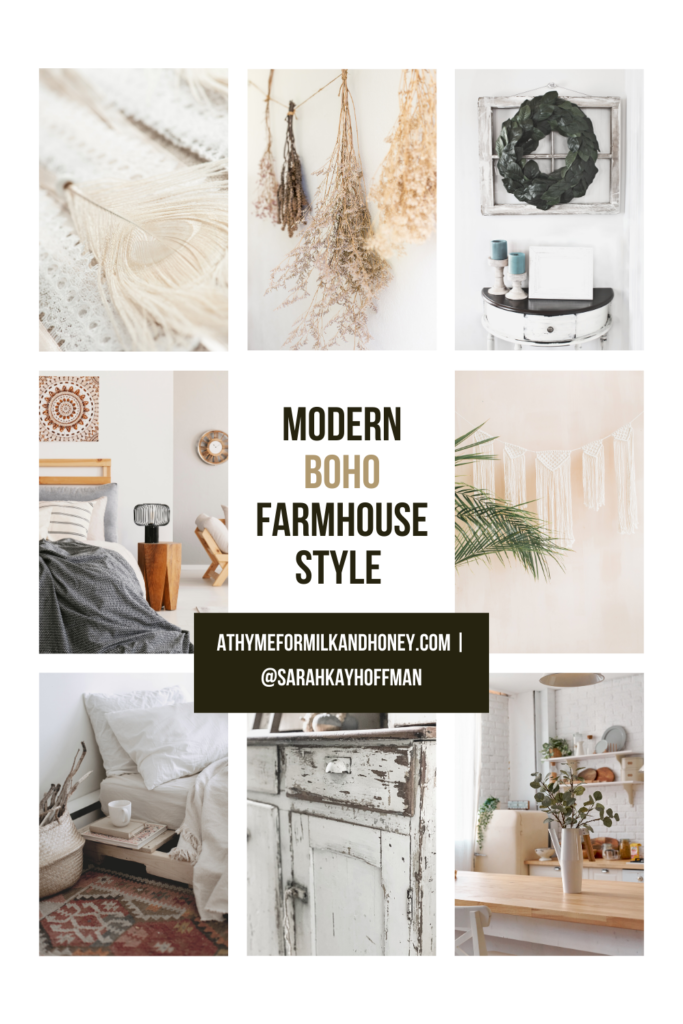 Honestly? I have no idea.
I will tell you that I never saw it in a book or magazine or on a blog. And if I did, I never heard it called any form of the mash-up between boho meets farmhouse.
Instead, I was so drawn to it because the look and feel of the two sort of encompasses my life up until this point:
I'm constantly seeking less vs. more.
Minimalism and a minimal look is beautiful.
Though my husband can't see this (and I would agree), nothing excites me more than zero clutter.
Boho reminds me of the college years. I was more "hippie" style than anything. There was incense, American Spirits, and floral-flowing tops.
I grew up with an antique farmhouse style; everything I know about DIY (which is 2-5% on a 100% scale), I owe to my mom and dad.
I'm constantly saying that I believe I was born in the wrong decade. Perhaps I should have been born sometime between 1920-1940.
So I took these ideas and made a mash-up.
This is what art and style is all about anyways.
While I have zero fashion sense, I have some sense of organized mis-match via boho meets farmhouse.
Besides, if you think about it, the mash-up makes sense. They both embody something simpler.
This Page
The point of this page is to give a little intro for my home style. I'll start writing and sharing posts about what we're doing in our house and the things that are boho meets farmhouse.
See More Modern Boho Farmhouse Style
I hope you enjoy this style, look, and feel. I'm excited to share it with you!
Xox,
SKH