Last weekend was filled with painting and sunshine at our house.
I told Ryan that I'm wanting to do all these little projects. I'm trying to channel my mom and dad, who are so much more talented than I am when it comes to this stuff.
But I am trying.
Creating is so much fun. Watching something evolve from nothing to something is fascinating to me.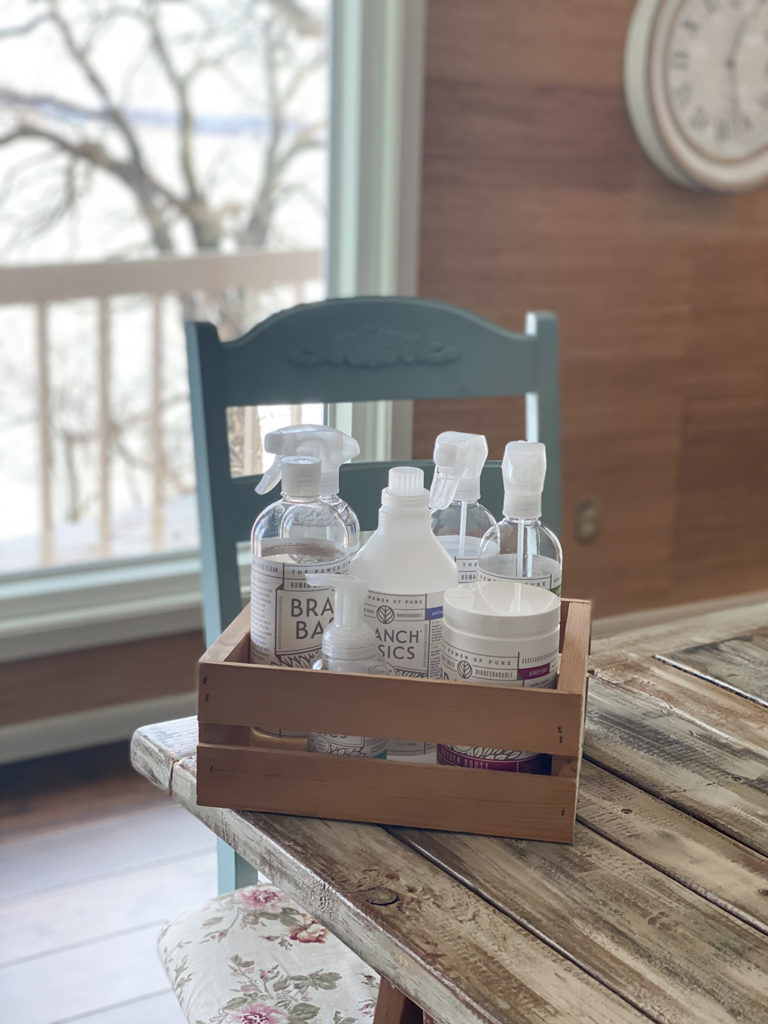 Non-Toxic Cleaning Products
For a very long time now, I've wanted to switch up our household cleaning products, laundry detergent, and hand soap.
The timing was never right because:
The "natural" products weren't as effective and/or
Some "natural" products weren't actually very non-toxic friendly. It's called 'greenwashing.'
But then this company called Branch Basics reached out to me in late 2019. They sent me the Starter Kit + Oxygen Boost. I tried the stain remover immediately. You know, because Georgie got her bone all over Samarah's white mini chair.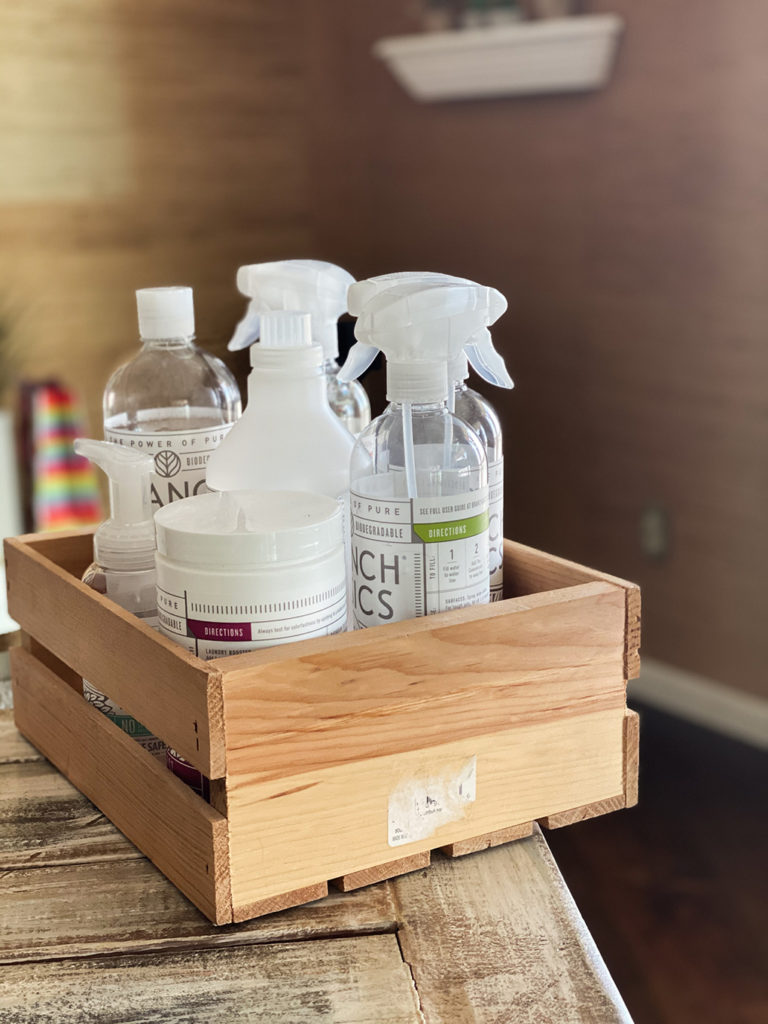 Anyways, it came out immediately.
I couldn't believe it.
So I kept using the products (still am), little-by-little, as needed. And we are throwing out other products, little-by-little, as we finish them.
So, you're wondering, "how is this even relevant?"
Well, I wanted to make a cute, farmhouse style holder to place them all in.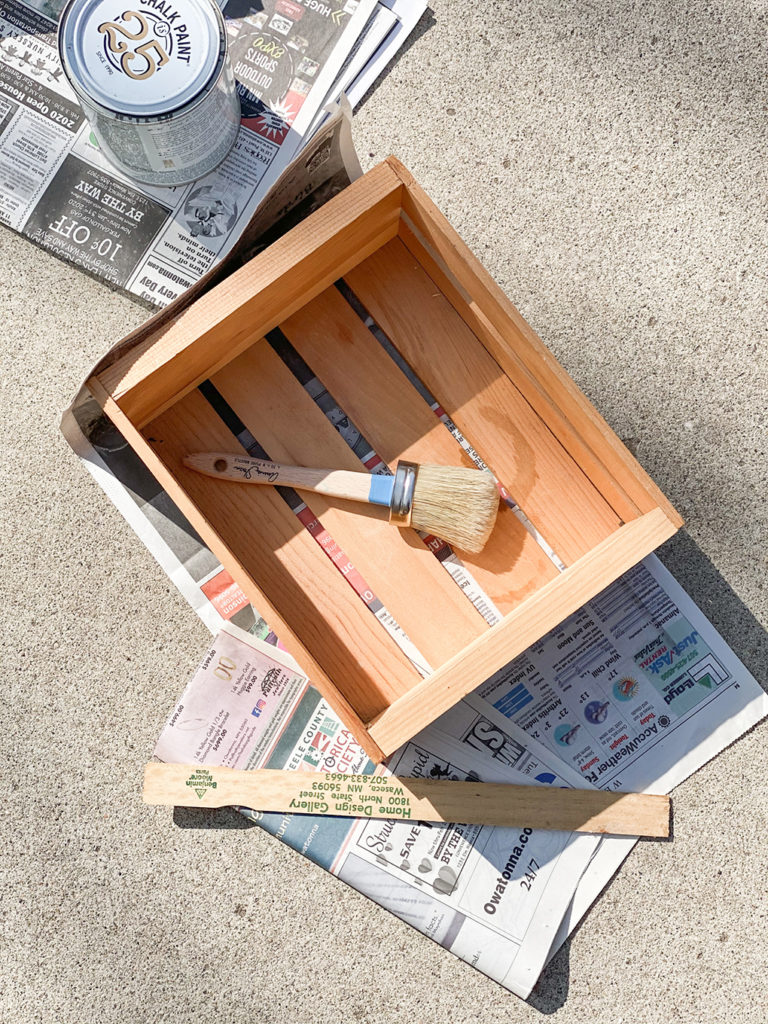 I found a wooden crate-style box, determined they would all fit snug, and then got to work.
Painting and Sunshine
It was so beautiful out last Sunday, so I decided to take this little painting project outside.
No more than a few minutes into it, and what do you know, little Miss Samarah had gathered up various pieces for her own painting and sunshine party:
a bag of paints from when Katie was still here!
mini canvas' to paint on
paint brushes
big, wooden boards
and bowls for the paints and water
Amiya and Isaiah couldn't wait to join her.
So it was one big painting and sunshine party.
I painted my box.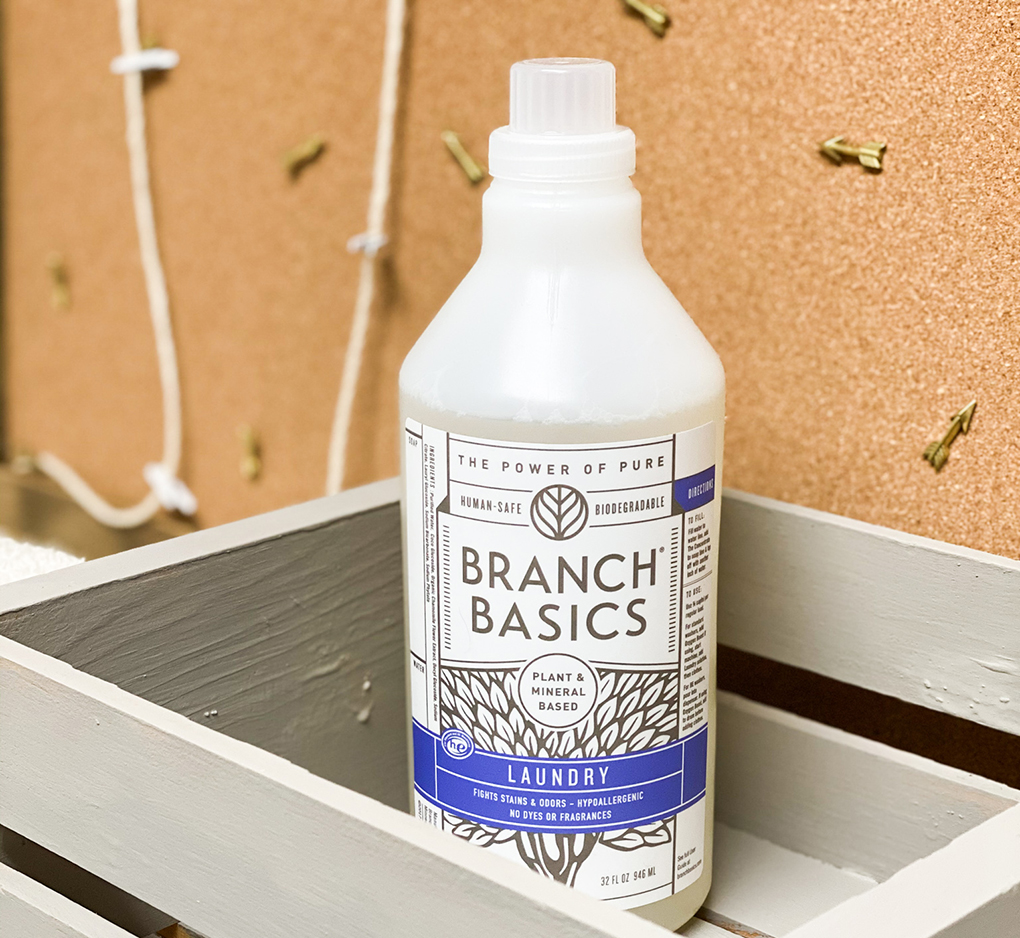 Ryan painted panels for where there is an open space beneath the new windows in our house.
Samarah painted Minions on her board.
And Amiya and Isaiah just painted all the things; shapes, colors, and then blended it all together.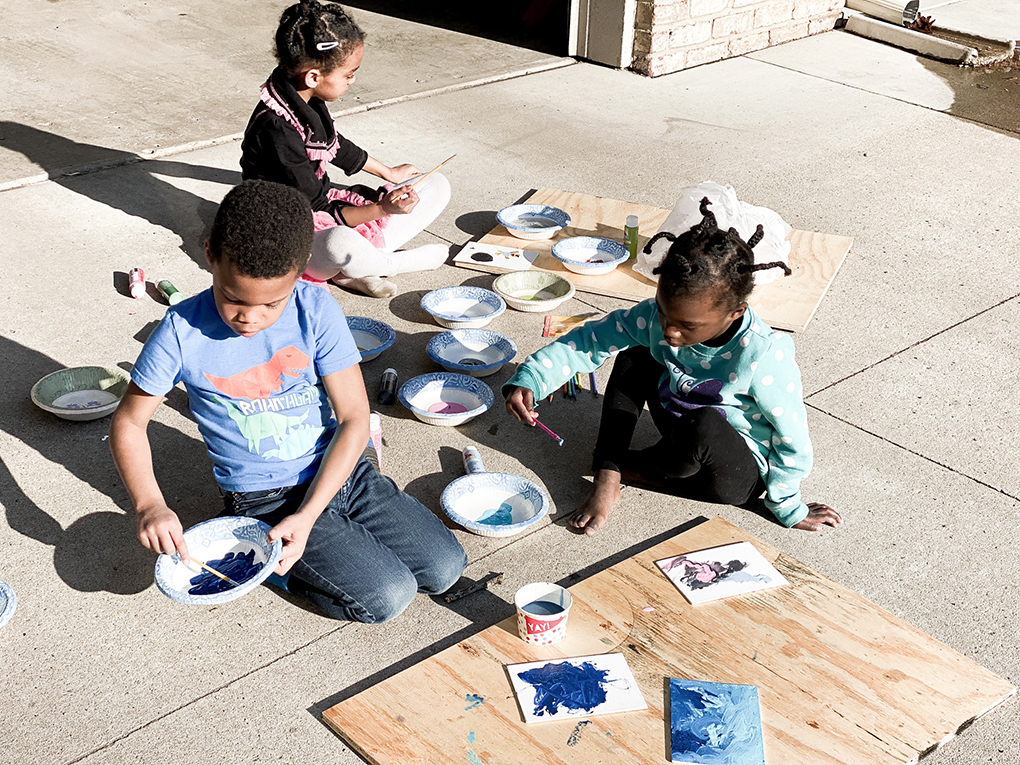 It was all chaos, yet very inspiring.
Ain't No Sunshine When They're Gone
This morning I thought it would be a good idea to finish up the Branch Basics post for A Gutsy Girl. In order to do so, I needed to finish a few things on the box.
It required me to paint again.
Only this time, there was not as much sunshine. And I didn't have Samarah, Isaiah, and Amiya here to share the joy that is creativity.
When the project was finished and I pressed 'publish' on Healthy Cleaning for a Healthy Gut, I was reminded of the joy painting and sunshine with my little humans brings.
And I felt grateful for something so simple.
Man, am I ever excited for spring and summer. You?!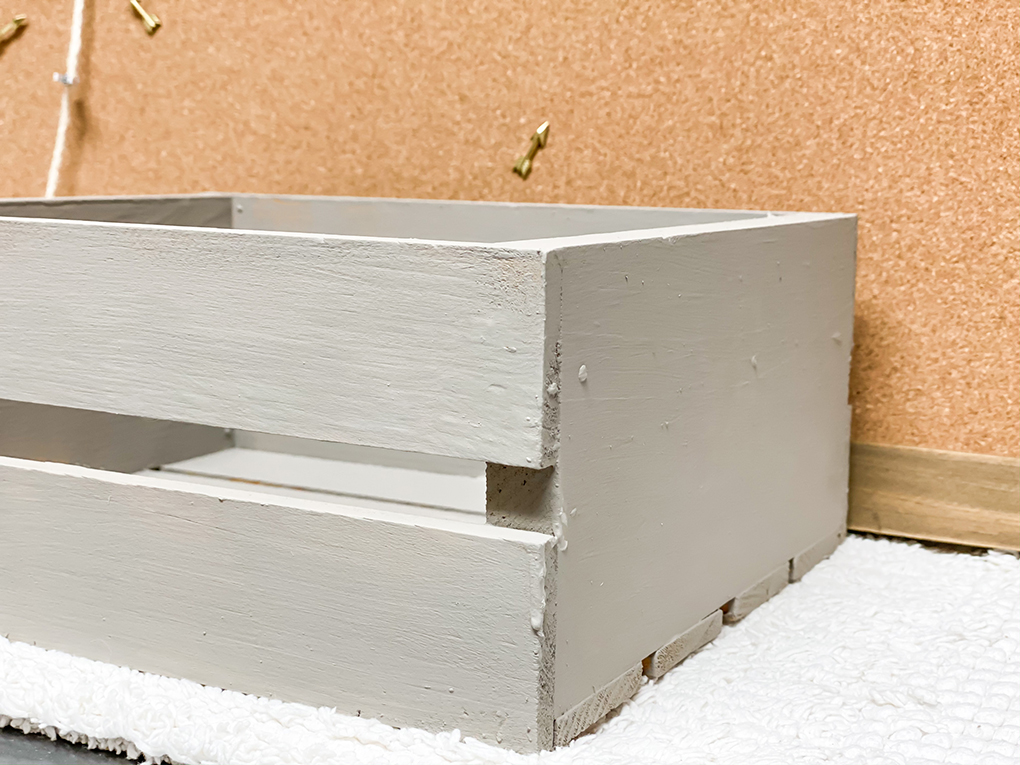 p.s. If you want to read the full post on 'Healthy Cleaning for a Healthy Gut,' click HERE.
Affiliate disclosure: The Branch Basics products and links in this post are affiliates. When you purchase any Starter Kit from Branch Basics, you will save an automatic 10% and I make a small commission.
It's a win-win. Just use code 'AGUTSYGIRL' at checkout to save. As always, thanks for the love and support to ensure I can keep producing content for the community, free of charge.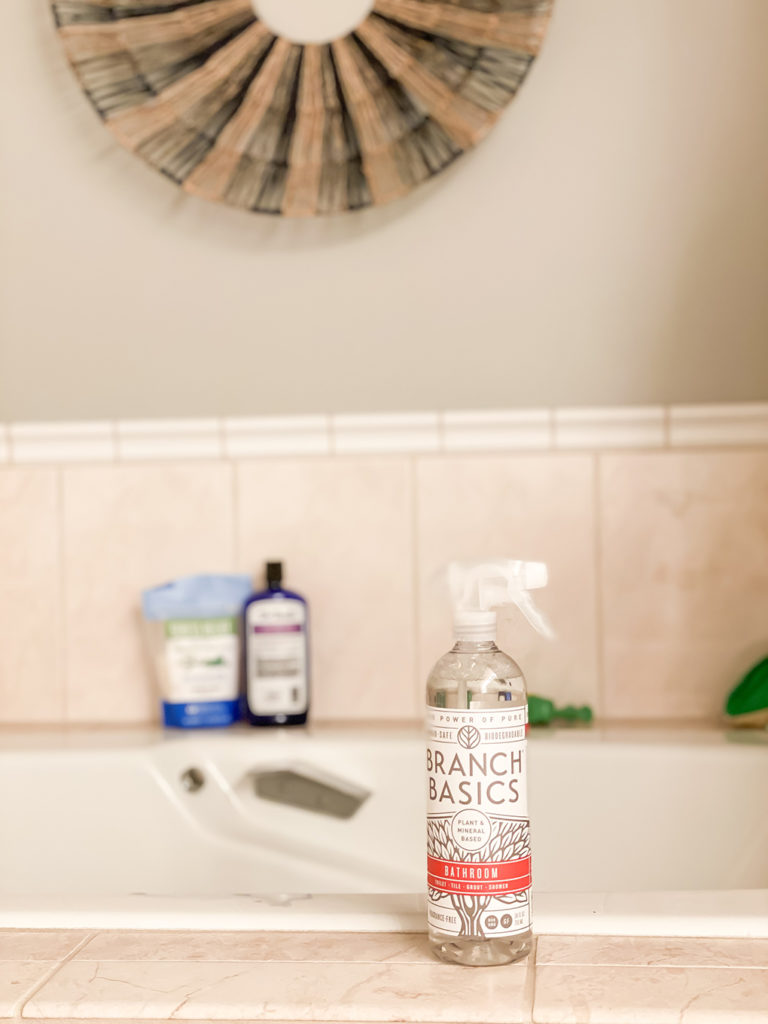 Join the magic and chaos, right where you need to be, HERE.
Xox,
SKH