Little Samarah brought home a picture that reminded me how a picture is worth a thousand words.
Last week, Samarah spent some time with her grandparents.
After the day she spent with my mom, Samarah's hands were filled with drawings upon drawings.
My mom mentioned she wanted to do her YouTube art channel for most of the day so she could create.
Now listen, if you ask me to draw something, I will struggle with a stick person. So even when Samarah follows along YouTube art instruction, I still think it's fascinating.
But there was one picture that she brought home that was not part of the YouTube instruction.
A Picture is Worth a Thousand Words
Click HERE to save this post for later.
Here is what the picture looks like.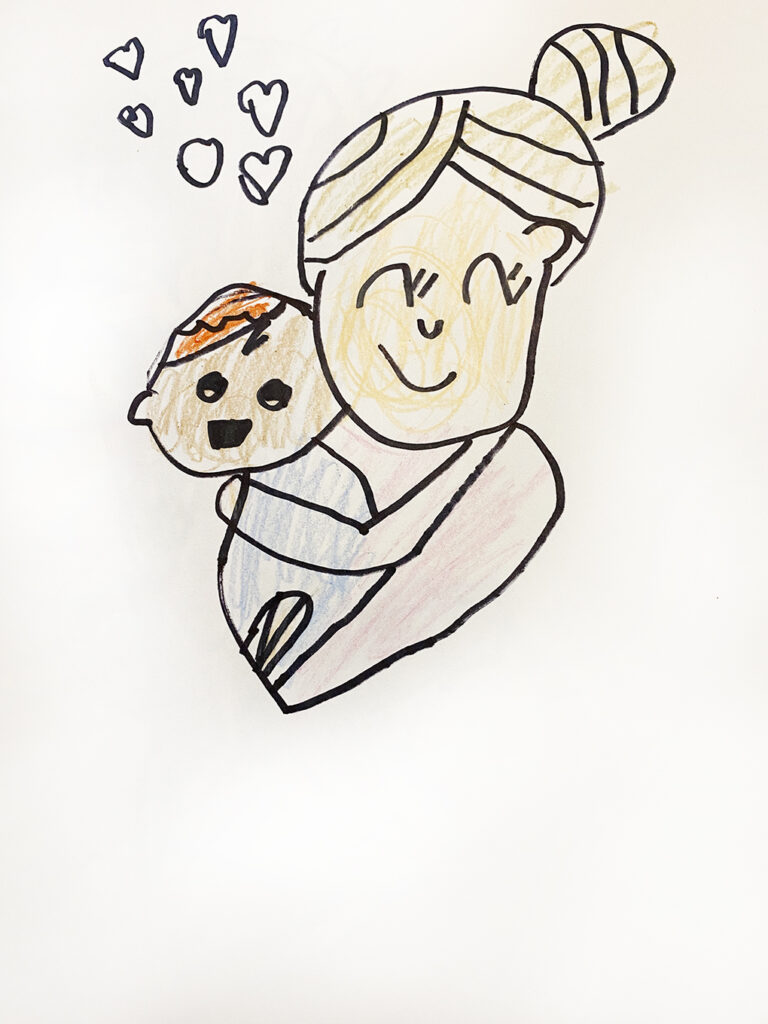 There are so many things I want to stay about this picture.
If a picture paints a thousand words
First, the detail is really incredible for a 7-year old.
I'm not just saying that because she is my child. This is a picture of me holding Samarah when she was a baby (her words exactly).
She details my hair bun (yes, that's 100% me), the little cap she used to wear, and even the color of our skin.
And to that end…..
Skin Color
When I look at this picture, I can't help but feel so happy that she sees color and she knows how much we celebrate color.
In fact, Samarah sees and amplifies skin color so much that she makes her and Isaiah's skin color different from Amiya's.
And when she does, I tell her how beautiful her work is.
Biracial Family
But also when I look at this picture, I'm overjoyed to know the realities of our biracial family from her perspective.
Kids are already asking her, "Is your mom white or something?" "Why is your mom white?" "How can your mom be white?"
Samarah is proud to announce that yes, her mama and daddy are white, and that she was adopted and born in my heart instead of in my tummy.
Anyways, there is another side to that story. She knows it (because we have told her), but yet she hasn't fully grasped it. Even if Samarah had never been adopted, her bio-mom is also white.
In that sense, then, I wonder, "Are the implications of me being White different for Samarah than for Amiya and Isaiah?"
Anyways, there's still more I think of when I look at this picture.
Hearts
I might send her to school and forget to pack an assignment. Or I might not be doing her hair perfectly on the daily. I also might spoil her too much, or on the flip side I might not be as fully present with her as she desires.
But….do you see all those little hearts she drew? Of course. They are so obvious. But do you also see the heart detail of the embrace between baby Samarah and me?
I actually have zero clue if that was intentional, if she tried to design the image in that way.
What I do know is that I have made a massive difference in the life of a child.
And I know this because Samarah is celebrating all the beauty of skin color mixed with love and fine detail in one, simple image.
This picture is truly worth a thousand words. And my greatest hope for Samarah is that I always help her celebrate her own, unique abilities and to be exactly the person God made her to be.
Xox,
SKH