Because they are likely to make many appearances in my stories and on this website, I thought I'd introduce Bailey and Harley the Great Danes today.
I randomly put up on Facebook, not even a week ago, a picture of Bailey and Harley with caption, "Meet Bailey (the black one) and Harley (the Merle/brindle one). Adding some big boys to our family – and so excited!"
Oh yes, I know it came as a shock because it's not like I have been talking about getting another dog, much less dogs at all.
And similar to when we said "Yes," to Ceci coming to America to live with us for several months just days after we found out Amiya was born (and we wanted her), we realize this all seems kind of crazy.
But in the weirdest way, I thrive on this. And I believe that when a calling is there, we should take it.
Okay, so here's how it happened.
Upper Midwest Great Dane Rescue
During SuperBowl season, Ryan and I saw a commercial where a Great Dane had been rescued from the Upper Midwest Great Dane Rescue. The organization seemed like a good one, and we looked it up.
Immediately, we found a Black Dane that we loved and wanted. (Spoiler alert: We did not get that one. It was gone before we even got going.)
Ryan was all, "Do we really want to do this again?"
The answer was obvious because he immediately paid the $25 fee (which is just for the rescue and to get the process started). We also submitted an application, complete with names, references, our vet, contact information, etc.
I had to think, "Would this be another Foster care procedure?"
Anyways, it wasn't long after when they called all references and other people we put down. I know this because our old kennel from California messaged me to let me know they had called her.
Shortly after that, someone from the rescue came to our house to get to know us, the kids, Georgie, and our house + yard.
Application Approved
Immediately after she left that day, she said she would submit our paperwork, we would be approved, and then we would just wait until we found a dog that we wanted to be considered for.
So we waited. And waited. And waited.
I saw a lot of dogs that I loved. However, for one reason or another, they would not be right for us. Some were far too old (remember, we just put Reagan down in November so we're not wanting to deal with that in the immediate future). Others needed full fenced-in yards. Some others weren't okay with younger children or dogs, etc.
But then Bailey and Harley went up.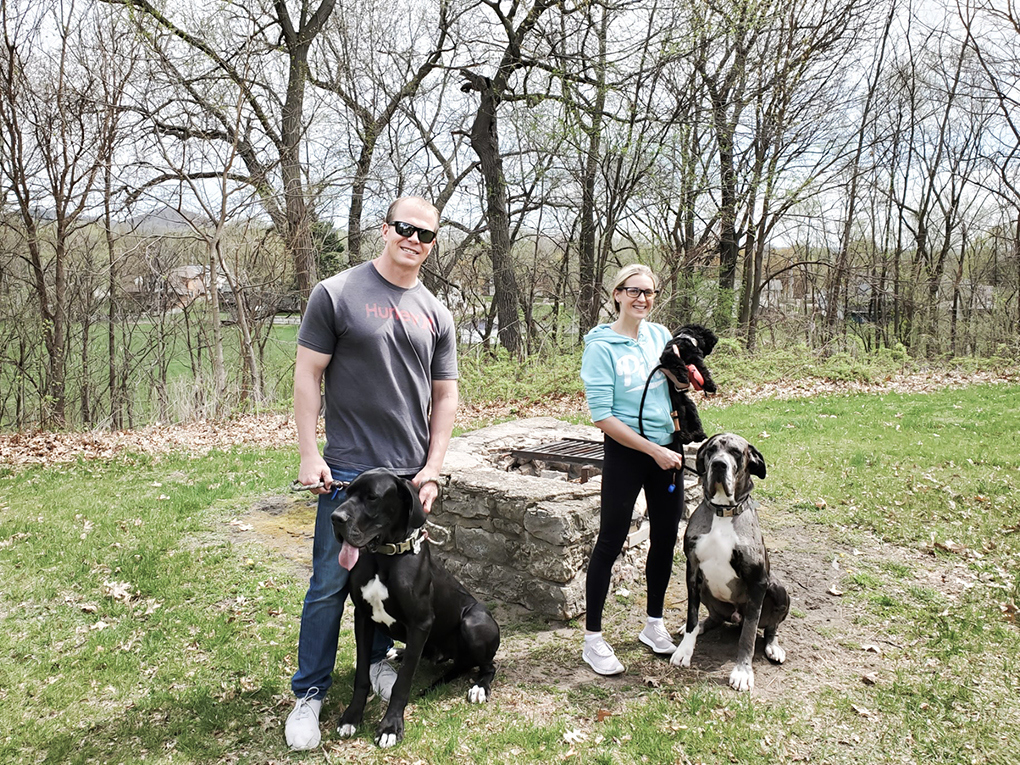 Bailey and Harley the Great Danes
They were the perfect age, 3. And they were handsome Danes. But I only briefly skimmed their profiles because of the words, "Bonded pair." What that means is that the rescue would not split them up.
That was that.
Until it wasn't.
One night, probably just a couple weeks ago, Ryan and I were wondering, "Hmmm….wonder if there are any new Danes up on the site?" You know, because being in Quarantine with a puppy, 3, 4, and 6-year old 24/7 just isn't enough!
I opened the website from my phone while standing in the kitchen.
No new Danes, at least I don't think there were. Because, immediately upon opening the website, my eyes drifted back to Bailey and Harley the Great Danes. And this time, I slowly read their profiles.
On paper, everything about them checked off – perfectly. There was absolutely zero reason they would not work in our family.
I mean, except that there were two.
I laughed because of the situation, showed Ryan their profiles, and he was like, "What should we do?"
So I took that as my opportunity to reach out to the rescue to understand one more thing: why did Bailey and Harley go into rescue to begin with?
Fostercare
The answer? Because the original owner bought them without his wife's blessing. He traveled a lot, and she really didn't want much to do with the dogs. So when he was traveling, she would board them.
Well, add it up – the more you travel and board – the more it costs to have them not there. And as he traveled more and more, it just didn't make sense to keep them.
So they turned them over to the rescue.
And at the rescue, they landed with the best possible family – a vet, his Dane, Boxer, 4 children (all girls), and his wife. Well, maybe a cat, too?
Anyways, not only did Bailey and Harley have a lot of love there, but the vet had him for over a month, which was ample time to be able to share with Ryan and I their demeanor, behaviors, etc.
So we told the rescue, "Sure! We'd love to talk to their foster to get to know more about them. Please send him our appication for consideration."
There were more families than just us, but a week ago from Sunday I received both an email and text early in the morning from the foster,
"Hi. Just wanted to let you know that we have chosen you guys for Bailey and Harley the Great Danes."
Ryan and I had a long call with the foster that night.
Everything checked out, so on Monday (a week ago from today), we let the foster know that we would take the dogs.
Yes, There are TWO!
Ryan, Georgie (my little dog), and I drove to La Crosse (about 2 hours from here) on Saturday to meet the foster family (1/2 way, which was so nice of them!) and finalize the "adoption."
We spent the rest of the weekend getting them acclimated to our house, yard, the kids, and Georgie.
Well, not really to Georgie because she wants nothing to do with them. She is still barking and growling a lot and is very jealous. It will come, though. I'm not worried about it. We are just taking it day-by-day, little-by-little with her. The Danes are fine with her; she isn't with them.
And so far?
We absolutely love them!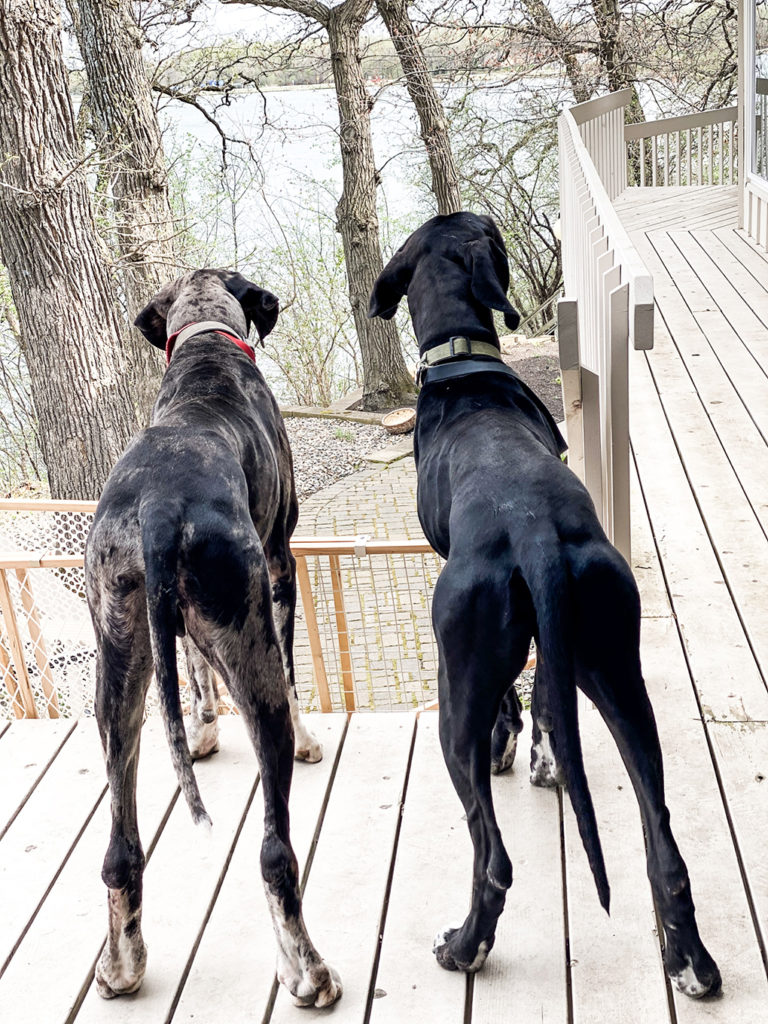 The Best Big Besties
Bailey and Harley the Great Danes are brothers; litter mates. I can 1,000% understand why the rescue would not separate them. They are joined at the hip, and extremely loving and affectionate towards each other.
I could not imagine one without the other.
Bailey is the black one. He is a little more outgoing than Harley. I think of him more as the puppy because of his tendencies and personality. He is striking black, and I still can't handle him that well alone.
Harley is the Merle one. He is super subdued, however, when he creeps down to pull me on the leash, it's intense. His face constantly says, "Time to chill out."
The kids love them, and they love the kids.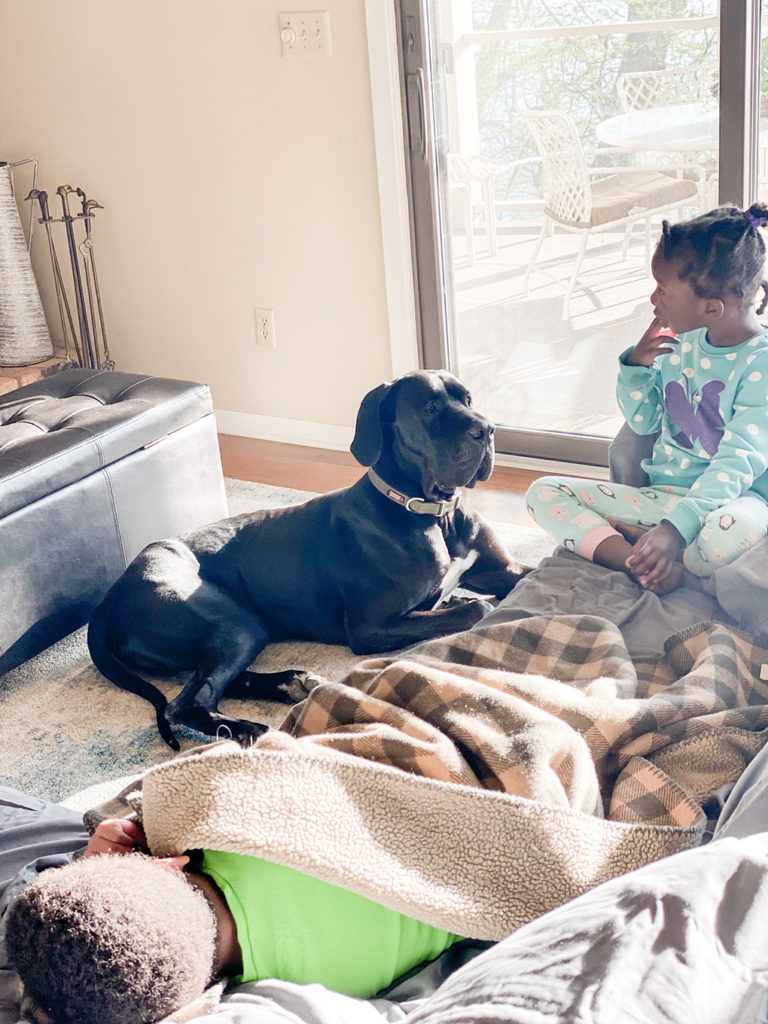 Yes, they do slobber and yes, they are massive, BUT…..they are incredibly well-behaved dogs. They understand all our commands, and are respectful of everything.
I hope it's fairly obvious that getting them was mostly my idea. I mean, I'm crazy over dogs. They are my heart. I grew up with them, and just want to love them all.
While Ryan sometimes likes this, he's also unsure sometimes.
But even still, I have to be very honest – they have taken BEST to Ryan.
Every single time he gets up, they follow him. When he leaves, they stare at the door. I'm sure there's still hope that one of them will really love me, but for now, it is all Ryan. I hope he appreciates it 🙂
Protective
And, they are already protective. I was home with just Sam when my brother stopped by (at 6-feet obv!) to see them on his way out of town.
He walked in, and they growled and barked.
Yes, JJ, we'll have to work on this one!
While Danes are gentle, I'd never want to cross one, much less two, angry or threatened.
Night Two
Last night was their second night here, and the coolest thing happened.
When we tell them it's time to lay down at night, they do. They like to sleep on our floor in our bedroom or on these two massive pillows we have for them (one for each).
Anyways, they laid down, all was calm. We all fell asleep.
And then around midnight, they both got up, in sync. They came to my side of the bed, sniffed, and turned around. Then, they went to Ryan's side, sniffed, and walked out of the room. Immediately, they both went to their pillows, and plopped down for the rest of the night.
As if they were doing some final nightly checks.
Priceless.
Rescuing Two Dogs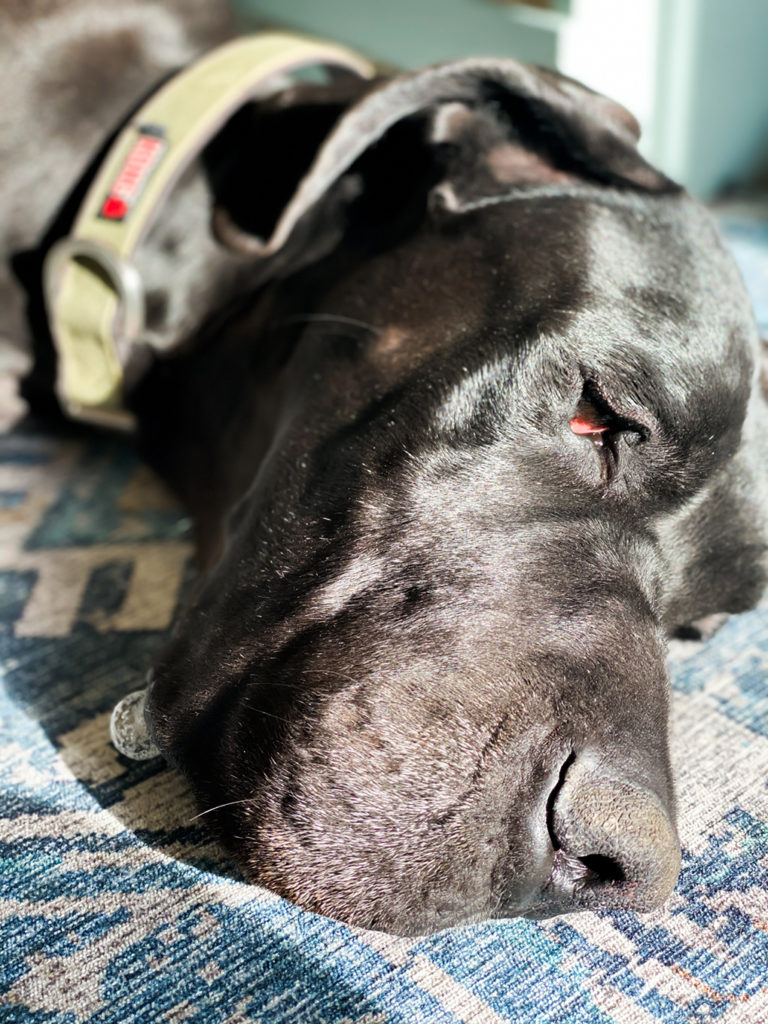 It was never the intention to rescue two dogs, much less two massive dogs.
Each time I bought a dog (= Fiona, then Reagan, and finally Georgie) for top dollar, I was criticized by someone, somewhere, for the reason of, "adopt-don't-shop."
It always made me so angry.
Look at the #adoptdontshop hashtag on Instagram. It's basically all animals. And that hashtag far outdoes the ones supporting adopting via fostercare children.
Listen, I have a heart for animals that's insane. The thought of hurting an ant makes me sad.
But no one gets to judge the fact that I bought vs. adopted some of our dogs if you don't give the same care and love for children who also are in fostercare and in desperate need of loving homes and families.
As I've always said, "You get to judge me for buying a dog when you adopt a child.'
And yet I do still recognize the downfall that is when you pay an outrageous amount of a dog when there are millions that need homes.
So when I heard their names were Bailey and Harley, I knew it was meant to be.
Say it out loud:
Bailey. Harley. Georgie.
Samarah. Isaiah. Amiya.
None of that was planned.
And 5 out of 6 of those are from a foster care setting.
No matter what anyone might think of me or us or this situation, I'm certain that giving more love to humans and animals can never be wrong.
p.s. Dad's Bench
We finally found a place for Dad's bench; right in the entry way underneath this mirror. I'm still looking for that perfect cushion. Nonetheless, the bench is there.
I was in the kitchen yesterday, and as I headed for our room, I stumbled upon Harley. He made himself this nice, cozy bed. Just precious. So stinkin' cute.
Dad would have loved Bailey and Harley the Great Danes.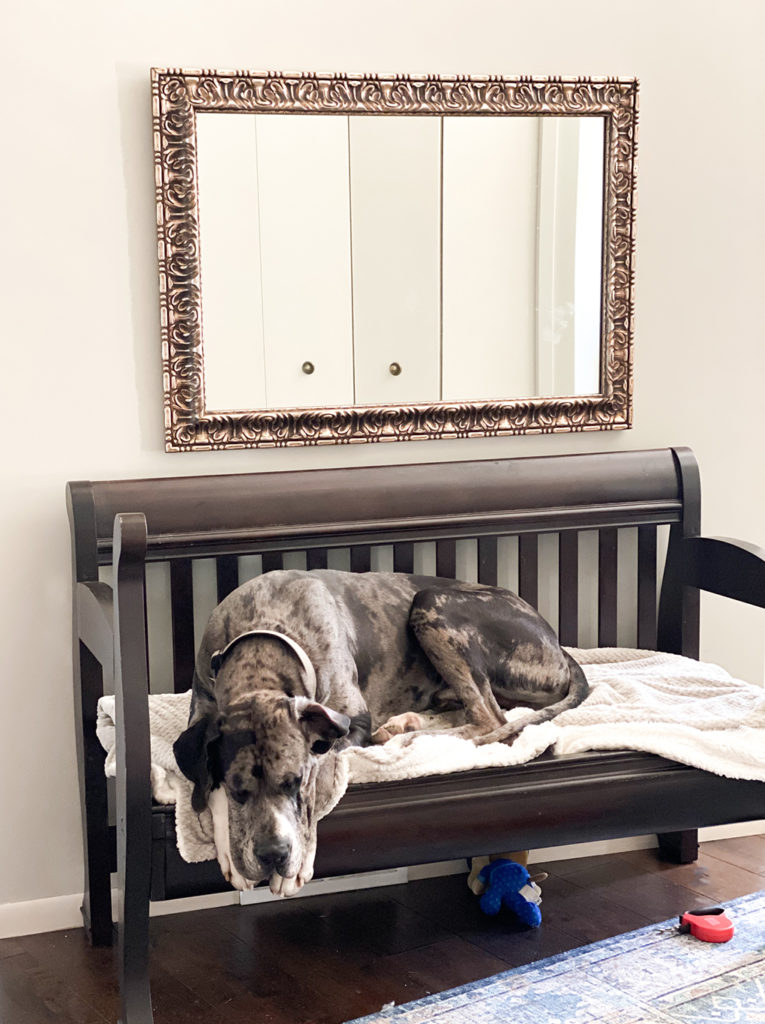 Join the magic and chaos, right where you need to be, HERE.
Xox,
SKH