Now this is a very important topic we're about to discuss today. Georgie turned one so we had puppy's first birthday party.
And yes, yes I do think it's important to share with you.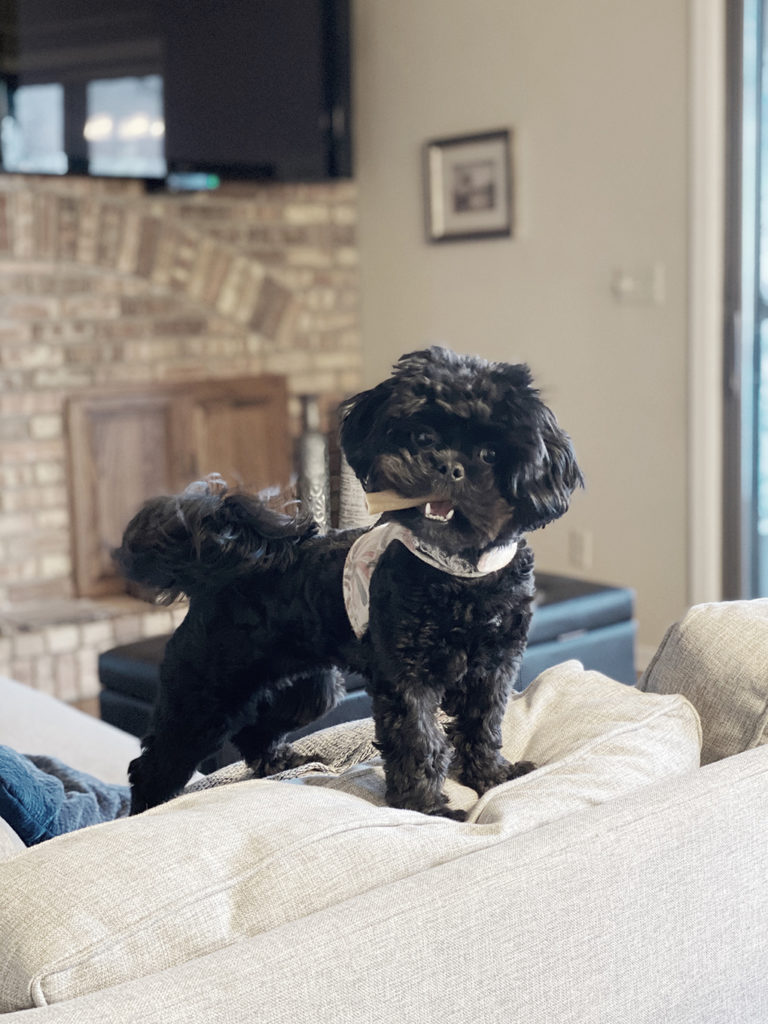 Also, my cousin was once married to this woman who threw an absolute fit (behind my back of course) that I let Fiona at the Christmas dinner table and fed her scraps post-dinner.
Thank God she will never see this post because she might just die from the horror that is another Peekepoo cake smash-ing on the table.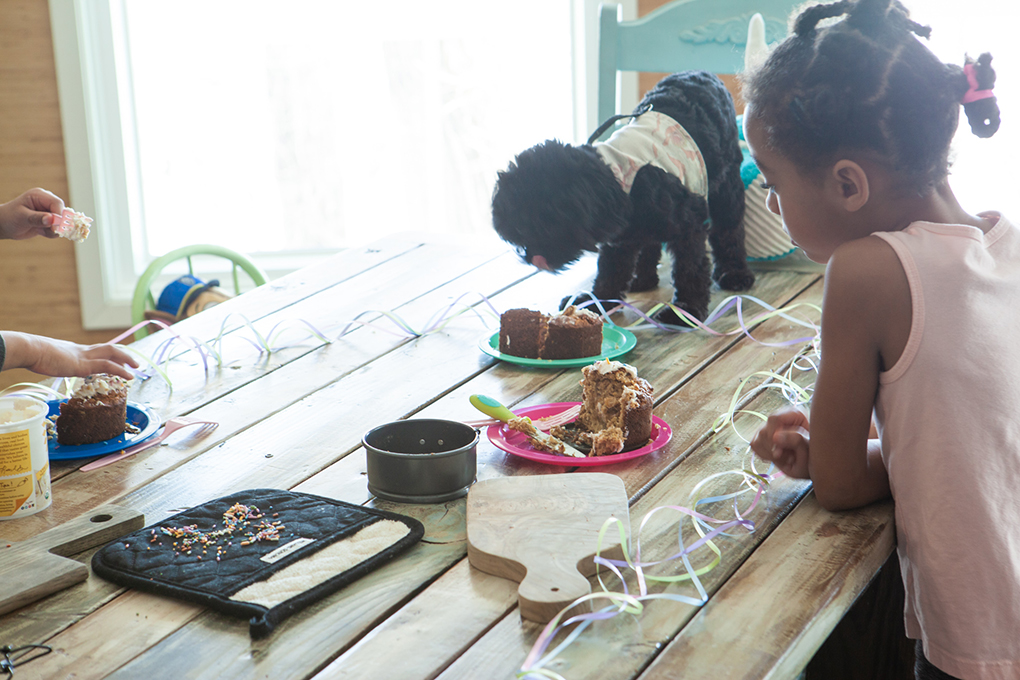 Celebrations
Life is too short to not celebrate every single chance we get. I truly, honestly, madly, and deeply feel that way.
I'm always looking forward to the next celebration. Big or small, I don't care.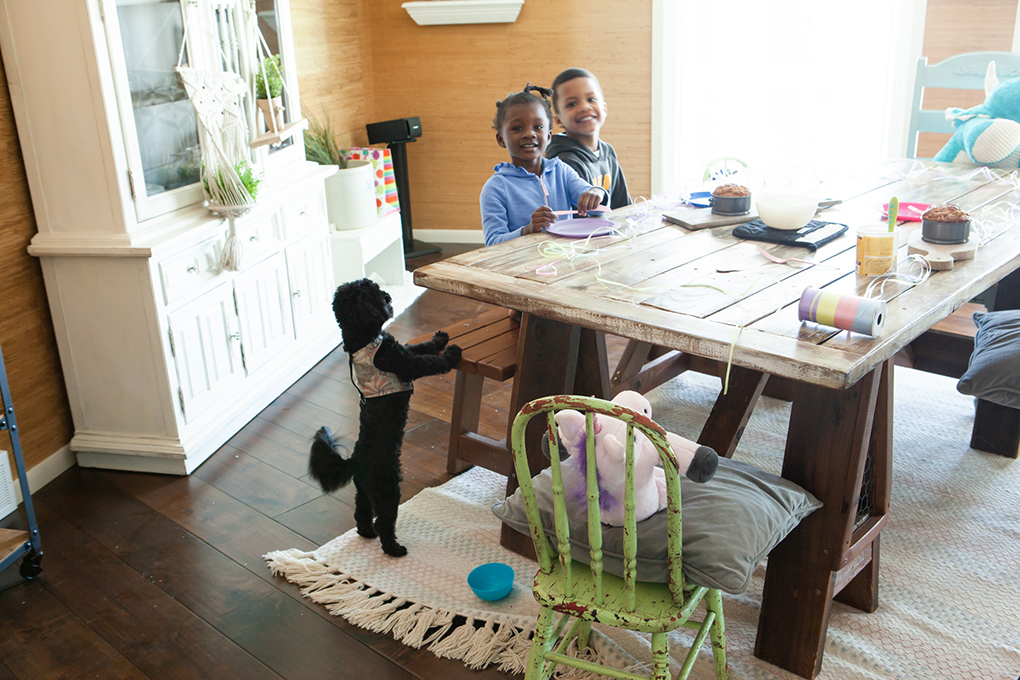 So when I told Samarah, Isaiah, and Amiya it was Georgie's birthday on February 28th, they asked if we could have a party.
Well, Sam did, because Sam wanted cake. Samarah always wants cake. And I like that about her.
Yes! Yes, of course we can have a party for Georgie and of course there should be cake.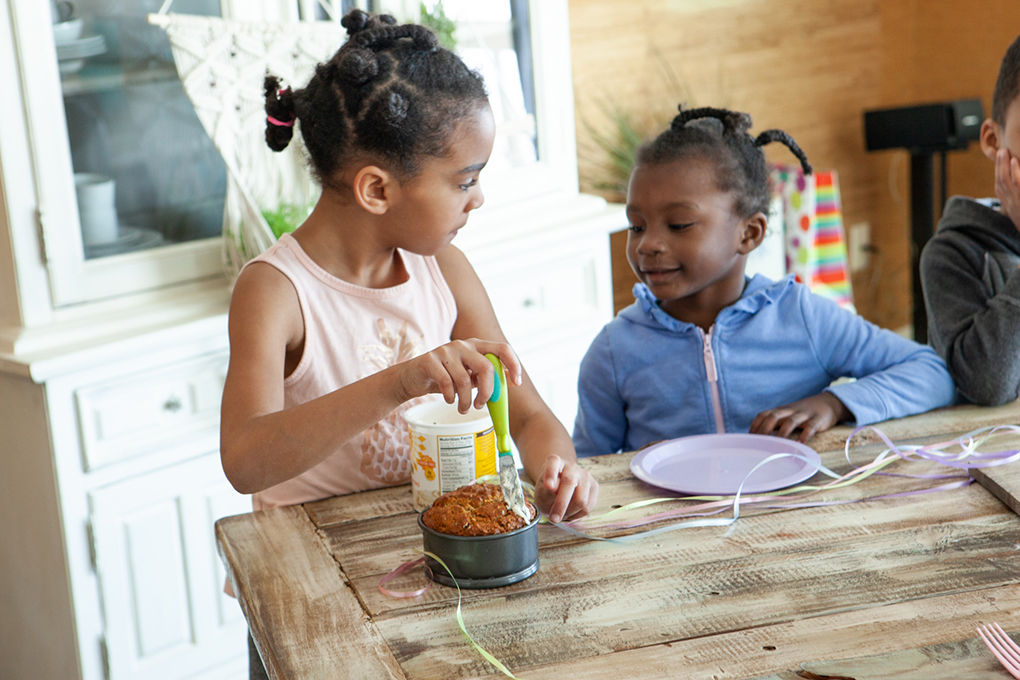 Samarah has been watching the cutest, little YouTube channel (Gone to the Snow Dogs) where this girl bakes and makes food for her dogs. So yes, yes everything is dog approved. In fact, Samarah knows Georgie can't have chocolate; instead carob.
Recently, she started watching the birthday cake episode.
So we wrote down the recipe, then changed it up some.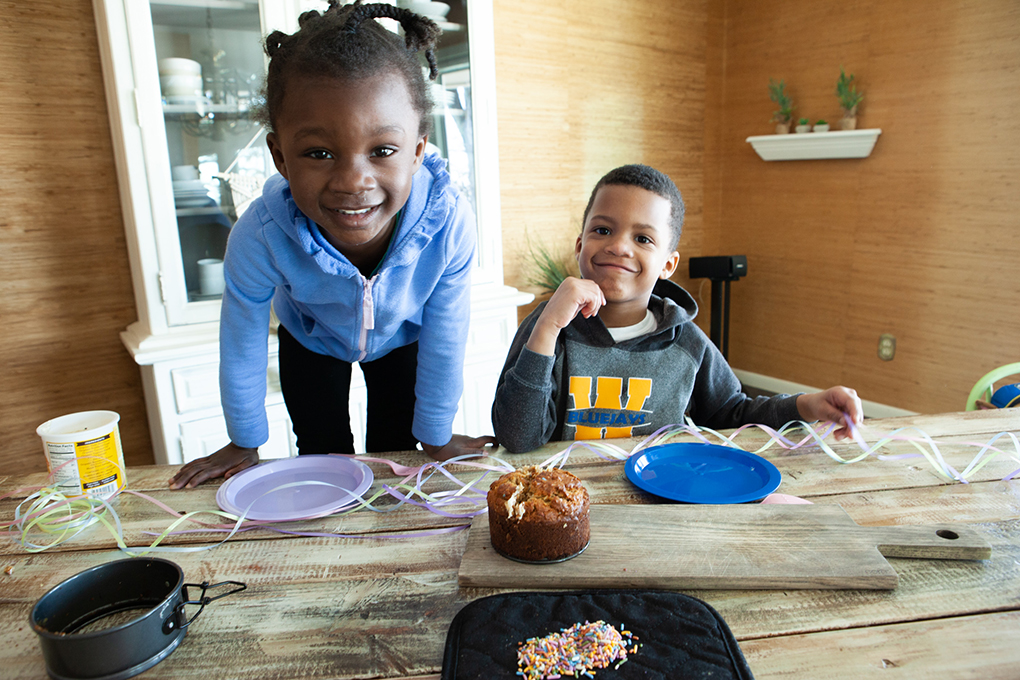 Let the baking begin.
Puppy's First Birthday Cake
Click HERE to save this post for later.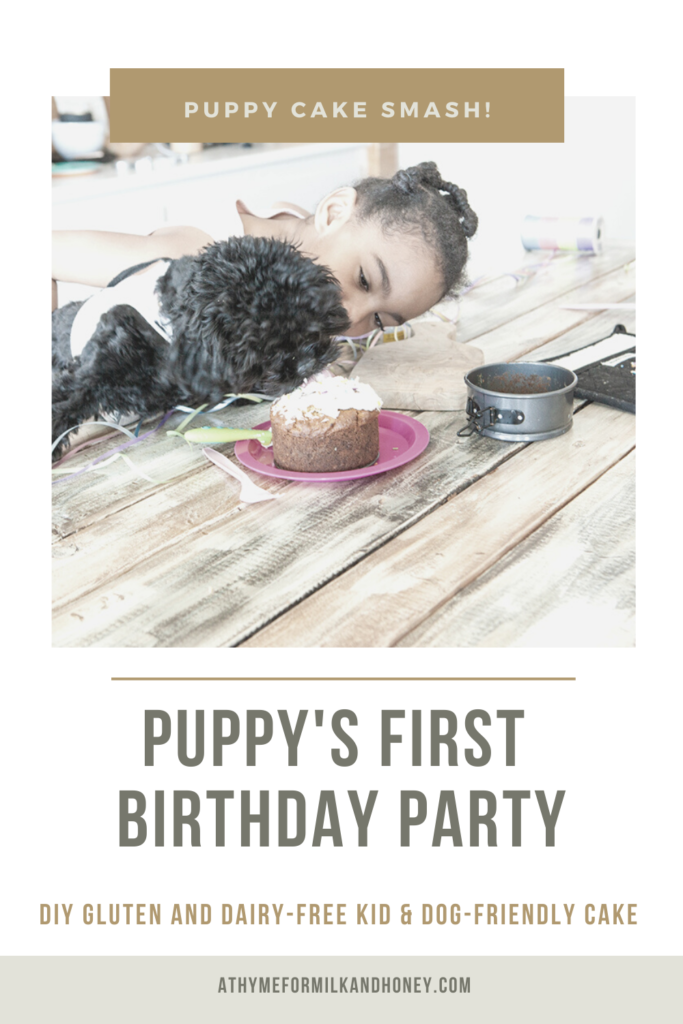 Here is exactly what we used for ingredients and did for the process:
Ingredients
1 large egg
1/4 cup organic peanut butter
1/4 cup Nutiva Organic Coconut Oil, measured then melted
1/4 cup honey (because that's all I had)
1/4 cup maple syrup
1 cup shredded coconut flakes
1 cup gluten-free baking flour (all-purpose)
1 teaspoon baking soda
1/4 cup water
sprinkles, as desired (we like Color Kitchen Foods)
pan spray (we use Chosen Foods)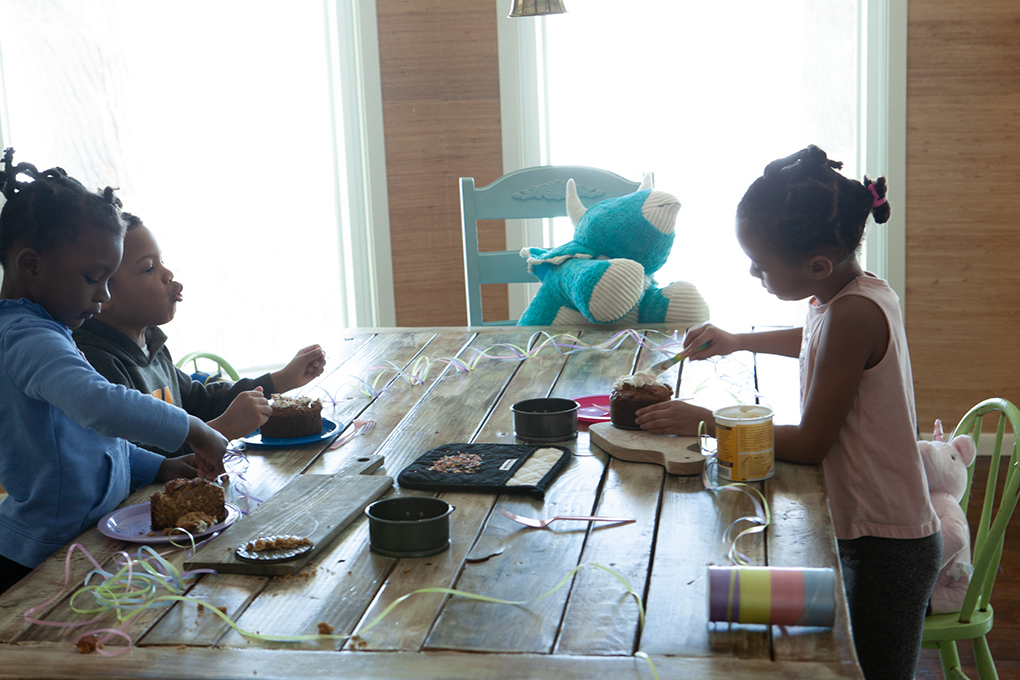 Directions
Preheat oven to 350 degrees.
Spray two mini cakes pans with pan spray. I have THESE from Wilton. And no, I don't love the quality from a health standpoint, but this is all I can find for good mini cake pans.
Place all wet ingredients in a large mixing bowl. Stir by hand until gently combined.
Add dry ingredients, except the sprinkles, to wet mixture. Mix all together by hand, but don't over mix.
Finally, fold in the sprinkles.
Pour the batter evenly between the two cake pans.
Bake for 24-26 minutes (up to 30 minutes).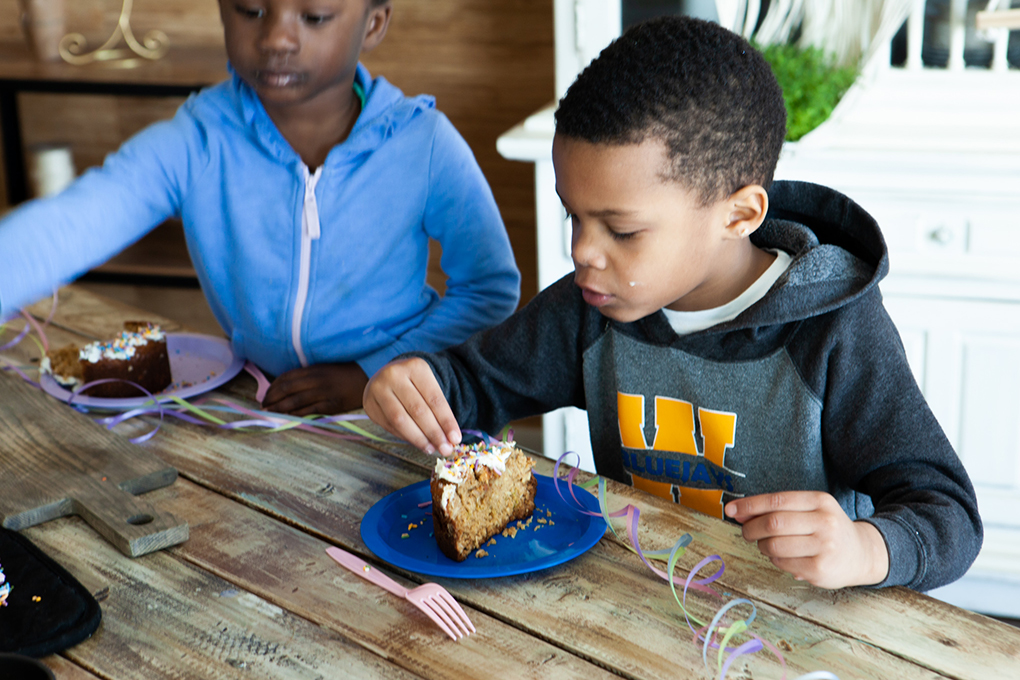 Note: You can get almost all of these ingredients from Thrive Market, too. We love Thrive Market, especially now that we lost our only grocery story in town 🙁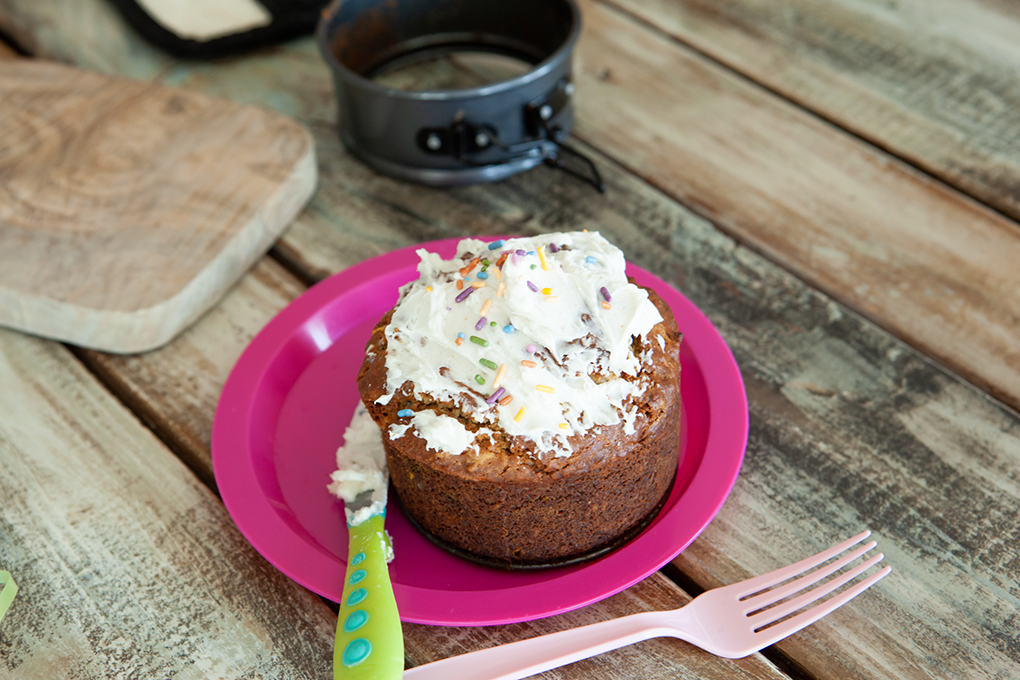 Puppy's First Birthday Party
What's a cake without the party?!
Of course there was a party.
Here is who came to the party….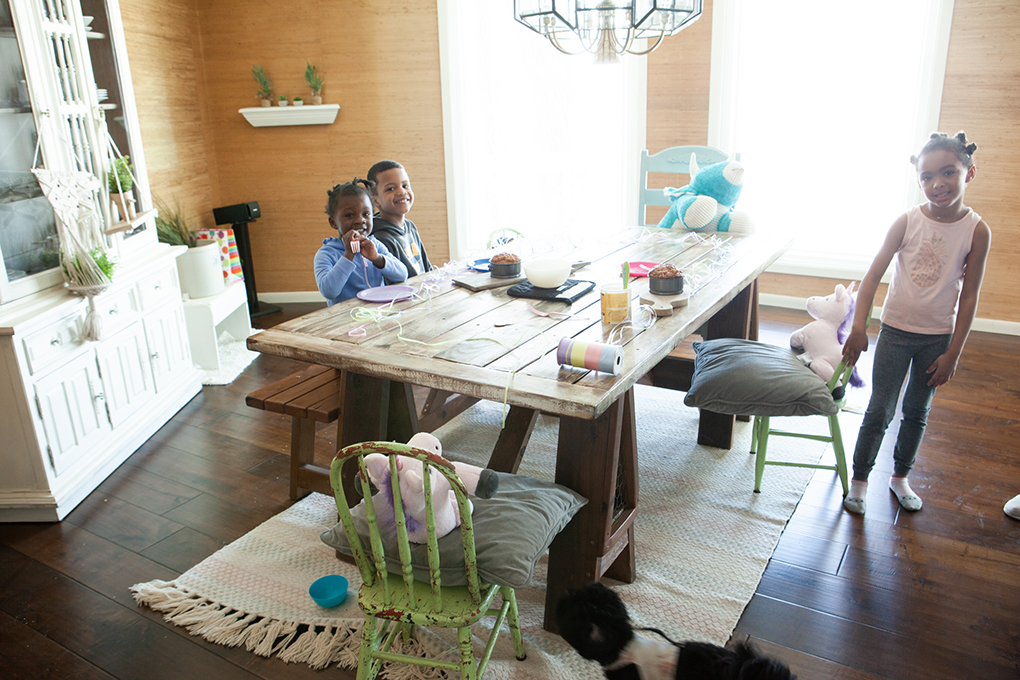 Nork Steven the Rhino, Chase from Paw Patrol, Ava the Unicorn (next to Samarah), and Scarlett the unicorn (at the end of the table).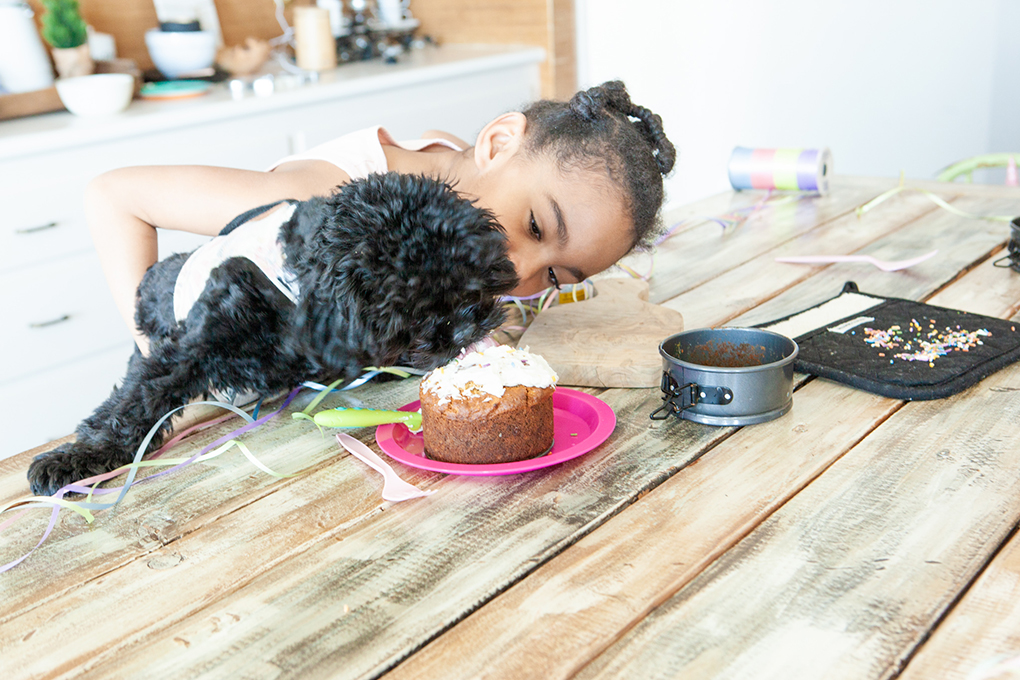 Also, Amiya, Isaiah, and Samarah.
Not pictured is Ellie – Isaiah's elephant.
And of course, our star of the day, Georgie.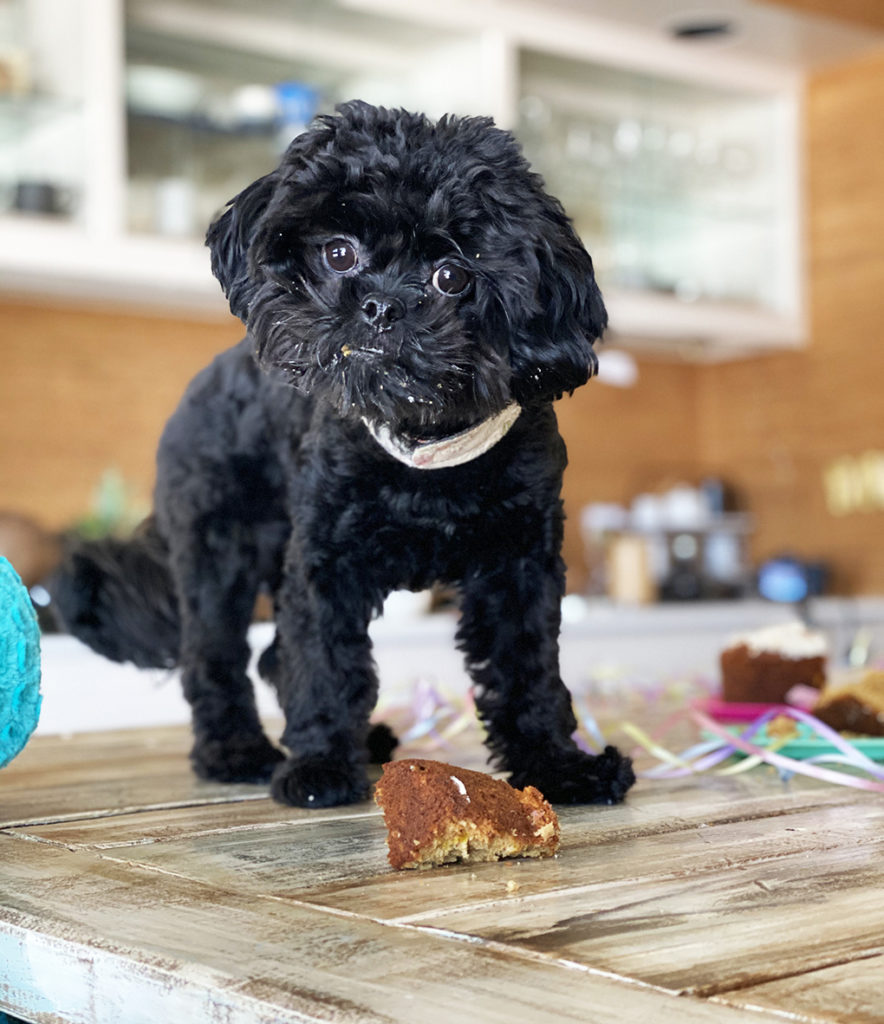 Georgie turned 1 on February 28, 2020. I never thought I'd love another Peekepoo like I loved Fiona. But here we are – totally loving Georgie.
Sometimes I call her George; other times Georgia, and usually just Georgie. Georgie Rainbow Hoffman is her full, real name.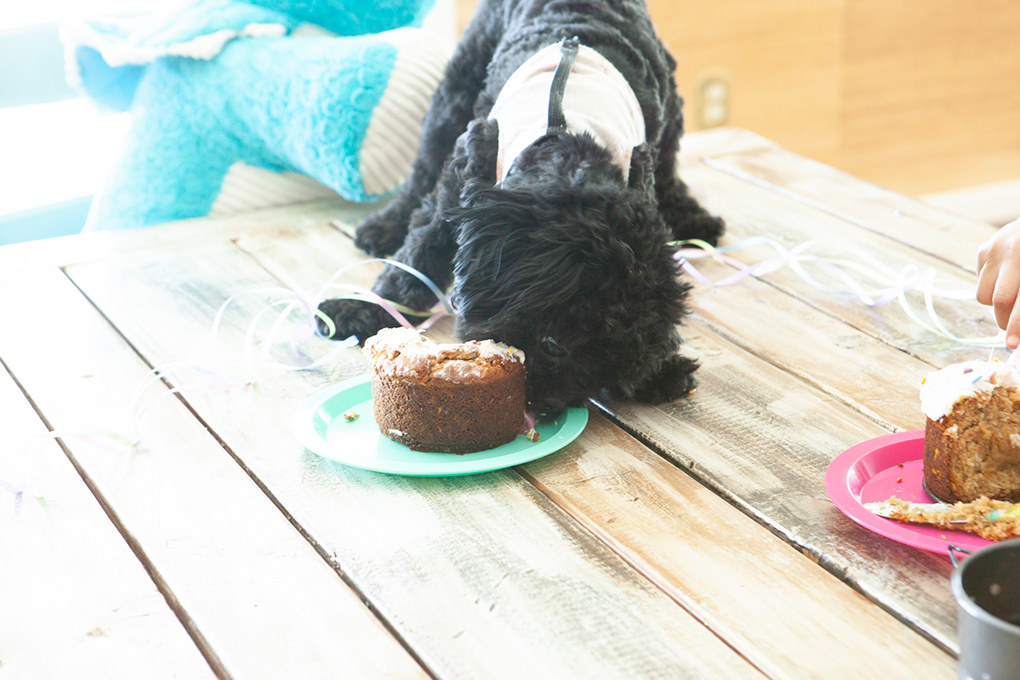 She's got more energy, spunk, and life than anyone in this house knows what to do with. But that energy and zest matches the kids' personalities perfectly. It should come as no surprise that this is the Peekepoo God would gift us with 🙂
Anyways, it was the perfect puppy's first birthday party.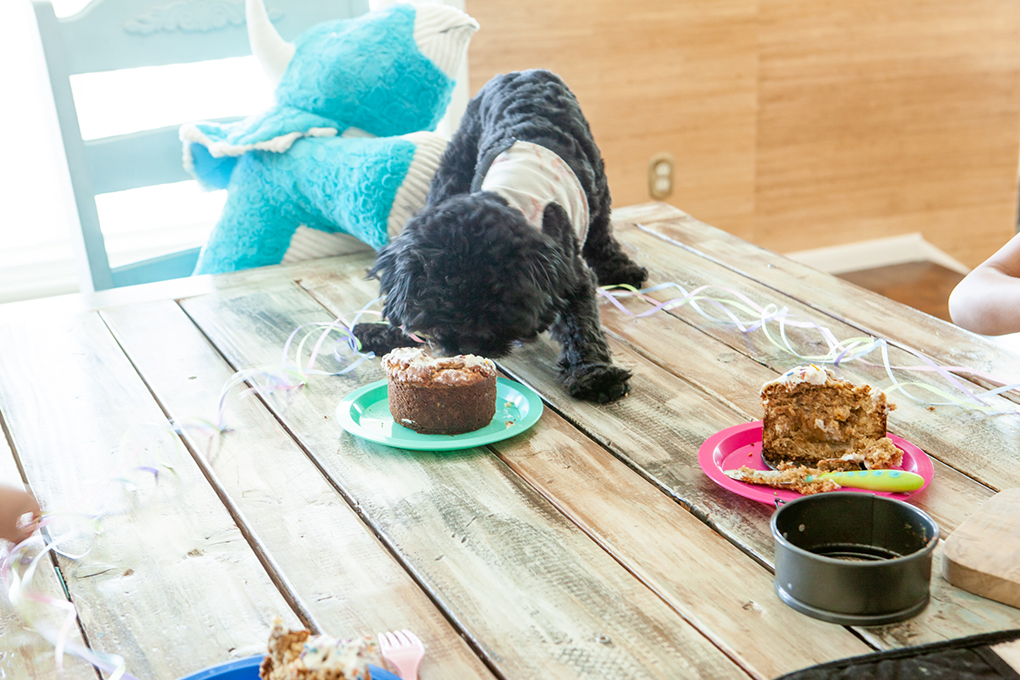 Best part of the party and cake recipe? It's delicious for both humans and dogs.
Another day of nailing it as mom, dog mom, and Pinterest princess. (insert sarcasm, dancing, and laughs)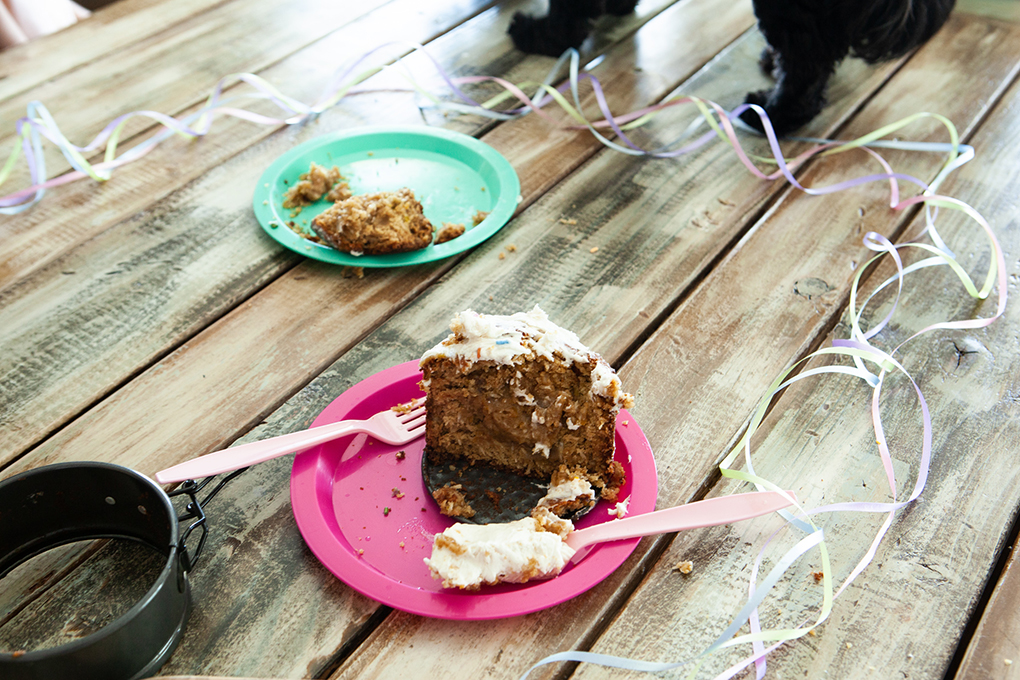 Join the magic and chaos, right where you need to be, HERE.
Xox,
SKH