Samarah did a Santa Hat Brownie homeschooling session, and it was lovely.
Mama, I don't know about you, but it's tough having littles at home while trying to run a full-time business.
No matter if you have a full-time job working for someone else, are a full-time SAHM, or are a full-time mompreneur, the struggle is real with the kids at home.
Anyone who tells you to 'suck it up, Buttercup,' needs to take about 5 steps back.
Isaiah and Amiya are still going to their schools in a nearby town because they were granted permission to do so.
But not Samarah. So she is at home 24/7 with us.
(I could write a post about all my thoughts on this whole ordeal, but that's not what this exact post is about.)
Anyways, she is at home 24/7 and her struggle in doing so is off the charts at this point.
We bribed her to focus and get through a couple worksheet and then I would do Santa Hat Brownies with her.
Santa Hat Brownie Homeschooling
Click HERE to save this idea for later.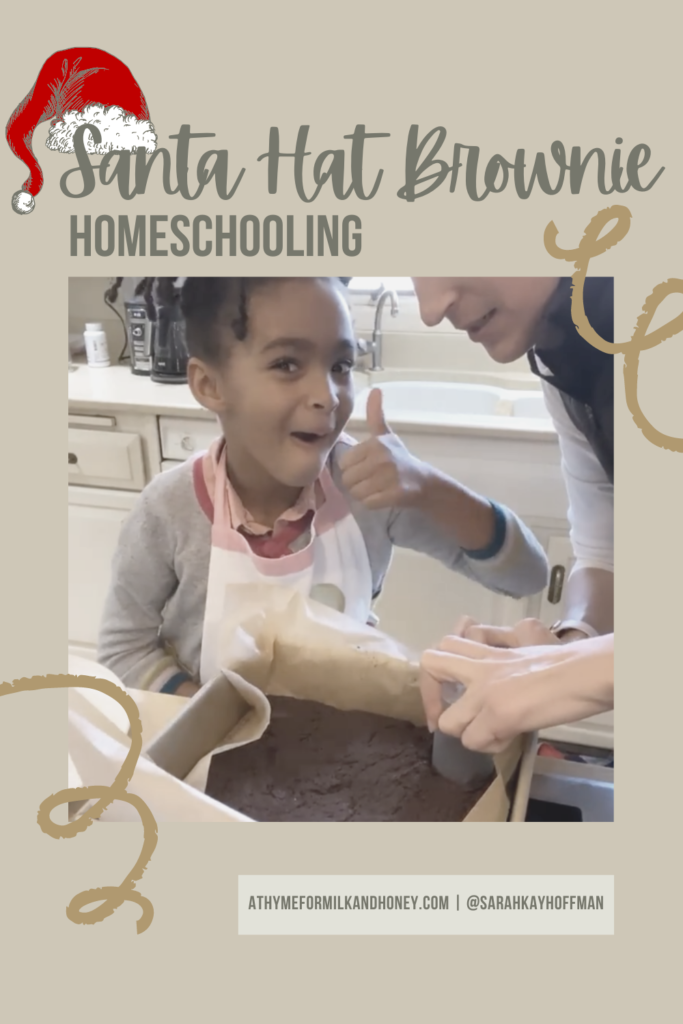 Now listen, this is a great homeschooling project. She actually loves the kitchen, cooking and baking.
And we talk about different numbers as they relate to baking, what the terms mean, how to work with different ingredients, and how to be creative in the process.
I was inspired to create this recipe upon:
Seeing the original idea and recipe posted HERE.
Receiving Lakanto's new Brownie Mix in the mail.
Here are all the things and ingredients we used to make these Santa Hat Brownies.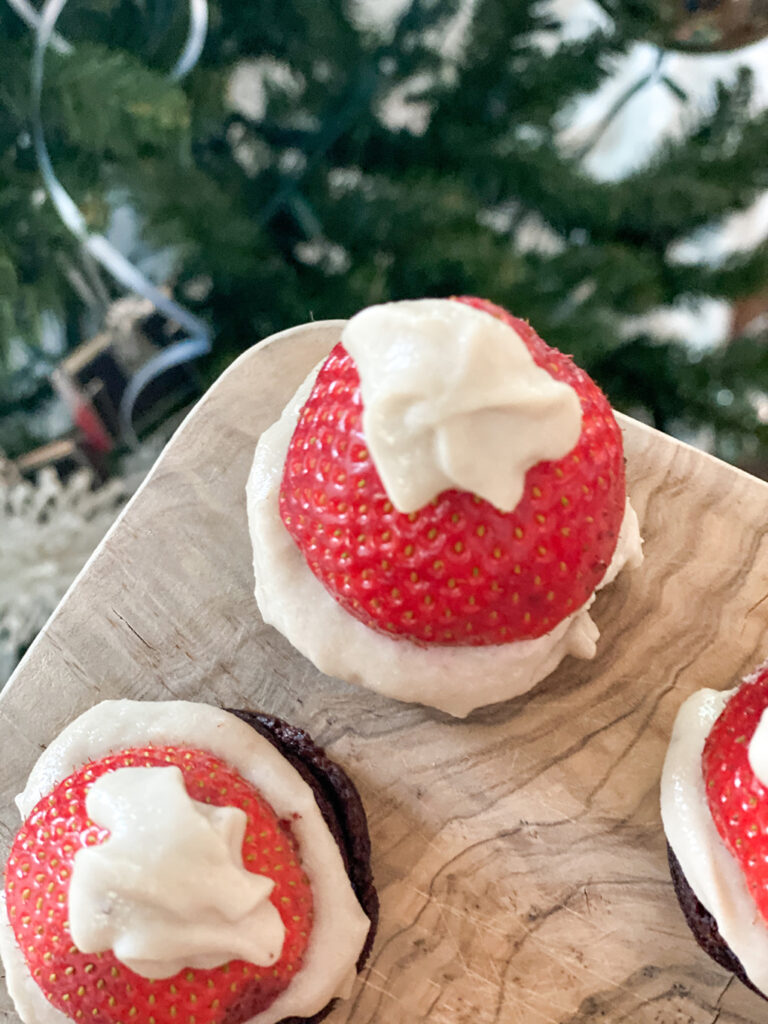 Edible Ingredients
Lakanto Sugar Free Brownie Mix (if you want to try this, you can use my code AGUTSYGIRL HERE at checkout to save 15%; you'll also find this on Thrive Market – below)
2/3 cup coconut oil
2 eggs
strawberries
1/2 banana
1 Tbsp arrowroot powder
a cup (1 cup) raw cashews, soaked at least 2 hours prior to using
1 Tbsp apple cider vinegar
1/2 cup Lakanto sugar-free powdered sugar (if you want to try this, you can use my code AGUTSYGIRL HERE at checkout to save 15%)
pinch of salt
---
BTW – If you're reading this and live in a small town like we do (we don't even have a grocery store!), the answer to getting healthier and/or organic options delivered right to your doorsteps is Thrive Market. It's membership based, just like Costco, only everything is delivered to your doorsteps, free of charge (with just $49 purchase), and you can order based on almost any dietary need(s).
Click HERE to get your membership and order.
---
Non-Edible Items
Adorable Piping Kit I bought on Amazon awhile back (we actually have the Bryta, but it's sold out)
How to Make the Santa Hat Brownies
Prepare brownies according to the package.
Meanwhile, mix the banana, arrowroot powder, cashews, apple cider vinegar, powdered sugar, and salt in the blender.
Hull the strawberries.
Once the brownies are done, let them cool for about 10-15 minutes.
Using a small circular shape of sorts, make small circular cutouts.
Fill the piping bag with the banana mixture.
Place the filling in a circle around each brownie.
Put a strawberry on top of the brownie.
Add just a pinch of filling to the top of the strawberry for Santas hat.
Enjoy!
Notes About the Santa Hat Brownies
Here are the things you must know before making these:
Because of the brownie mix and powdered sugar we used, there are no "real" sugars in the recipe (except for the natural ones in the strawberries and banana).
With regards to number 1, you might not like that! If you don't like monkfruit, then don't do it this way. Just make your brownie as desired.
I wouldn't do the "healthy" filling like that if I were serving them to a larger crowd. It works with this recipe because…..chocolate, bananas, and strawberries go together. But stick with your favorite whipped cream, cream cheese, or frosting if you can.
But also, don't be afraid because these are a "healthier alternative." Get creative in the kitchen and improve you health while never depriving yourself of the treats.
In case you care, because many do, these Santa Hat Brownies are:

gluten free
grain free
high-fiber
dairy free
low carb

I don't ever count the calories because I don't care. Count chemicals instead of calories and you'll be far better off. That said, the brownies themselves only have like 40 calories. I know nothing beyond that.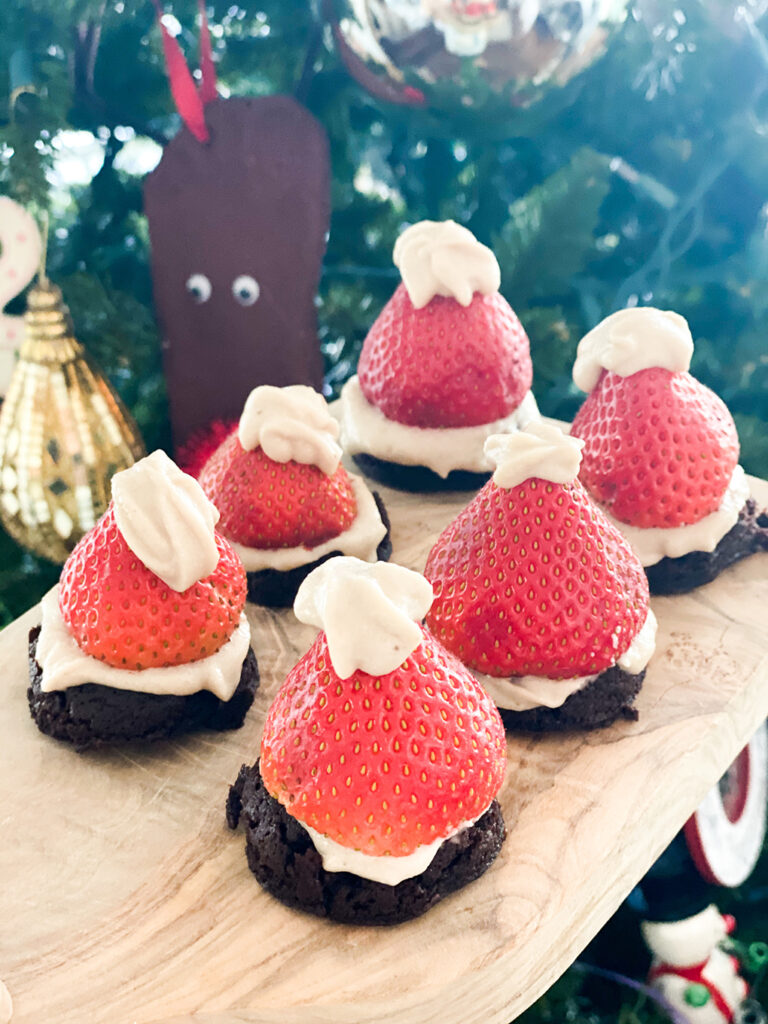 Samarah in Her Element
And here we are…..
She seriously wants her own YouTube Channel. So, next up for homeschooling…..TV production?!?
Just kidding. Settle down.
Xox,
SKH