I'm choosing to share the freshly painted bookshelf on a day that's seemingly dark.
Thought long and hard about how I wanted to celebrate Dad today, on the one-year anniversary since his passing.
While the day does feel all sorts of sad, what I came to realize about grief during this first year is that every single day is sad.
I'm not talking about sobbing for hours on end daily. That doesn't happen. What I'm talking about is the lingering sadness that, even if it's only for a moment, happens every single day.
It's partly my fault, as I still keep Dad as the screensaver on my phone and other pictures, memories, clothing all around me.
But I believe it's also just part of life now; a sort of unending grief.
And even though it is an unending grief, I have found ways to celebrate who Dad was, what life was like with him "well," and even smile sometimes through tears.
Today, on this one year-anniversary, here is how I'm celebrating Dad: by channeling him.
Painted Bookshelf
Click HERE to save this post for later.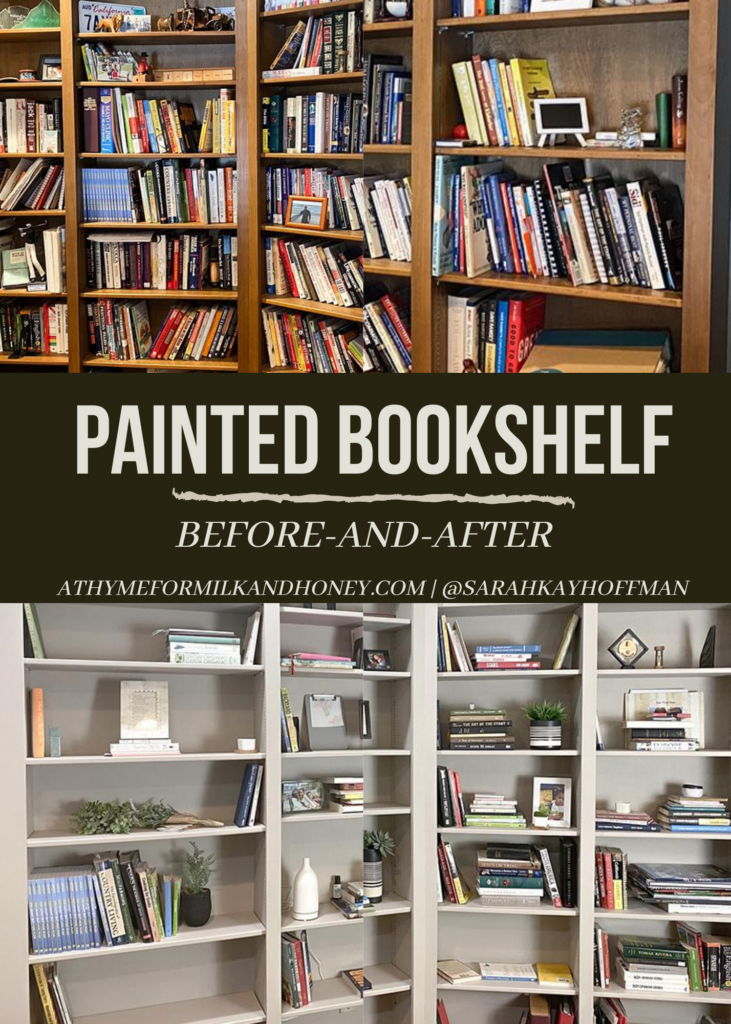 I'm finally ready to share the project I started a few months ago; finished not too long ago.
Bookshelf Back Story
My mother-in-law made the house we now live in exquisite. If you know her and this house in its original state, you know exactly what I'm talking about.
So when Ryan and I bought the house almost 2 years ago, changing it was tough.
Why change something when it's already beautiful?
Well, the answer is actually very simple: just because something is beautiful, doesn't mean its beauty was meant for you.
I think crystal chandeliers, castles, and eclectic, modern homes are beautiful. But they aren't for me.
So, little-by-little, we have begun changing things up in the house.
In fact, there are so many different projects I could share with you. But – with grief part of my soul this past year – it just hasn't happened. Yet.
I digress.
One day this winter, I looked at the massive, beautiful bookshelf in the office room.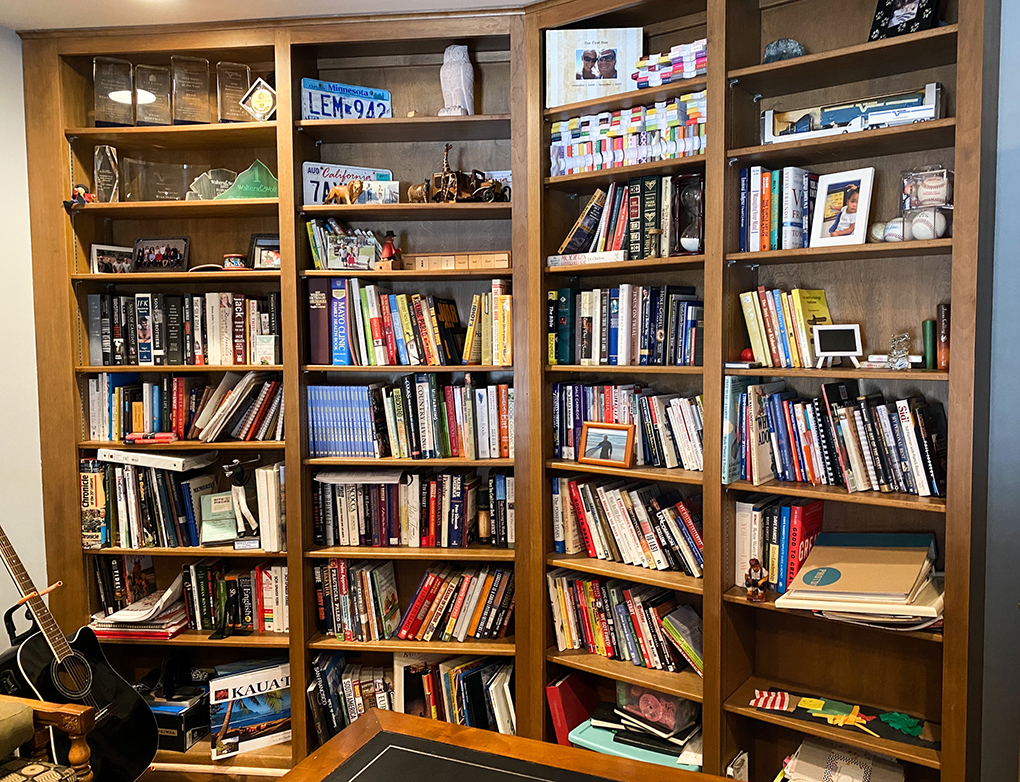 It needed something new, fresh, and "us."
I felt my dad channel an energy in me to paint the bookshelf all on my own.
Now listen, this is actually a big deal.
First, this isn't just some tiny bookshelf. It is huge. I mean, is it actually a bookcase??
Second, I have never done a painting job this big before.
So I told my BFF's that I was going to do it. Meg laughed, and they all thought maybe I should just hire someone. (God love them.)
But I knew I had to do this one.
Painted Bookshelf Color
I grabbed Fusion™ Mineral Paint colors, Cathedral Taupe and Little Lamb, from a local shop (Homestead for those of you around here).
Then, I slapped a little of each on the bookshelf to make a decision. This first step was nerve-wracking for me because with those strips of paint on the bookshelf, the project had to move forward.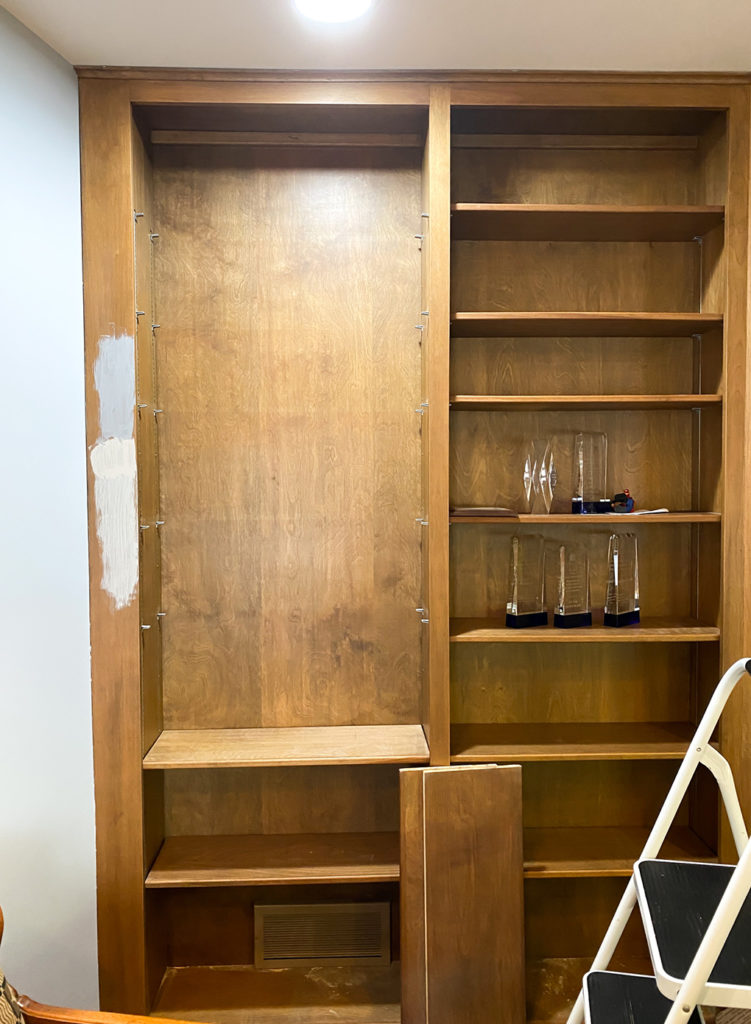 There was no turning back.
Anyways, I chose the Cathedral Taupe (the bottom one) because Little Lamb was too close to the wall color (which you can see even in the photo above).
And I got to work. Literally. Just got to work.
DIY'er
After the first coat went on, all I could think was, "Oh no! I am not a DIY'er."
Just look at this.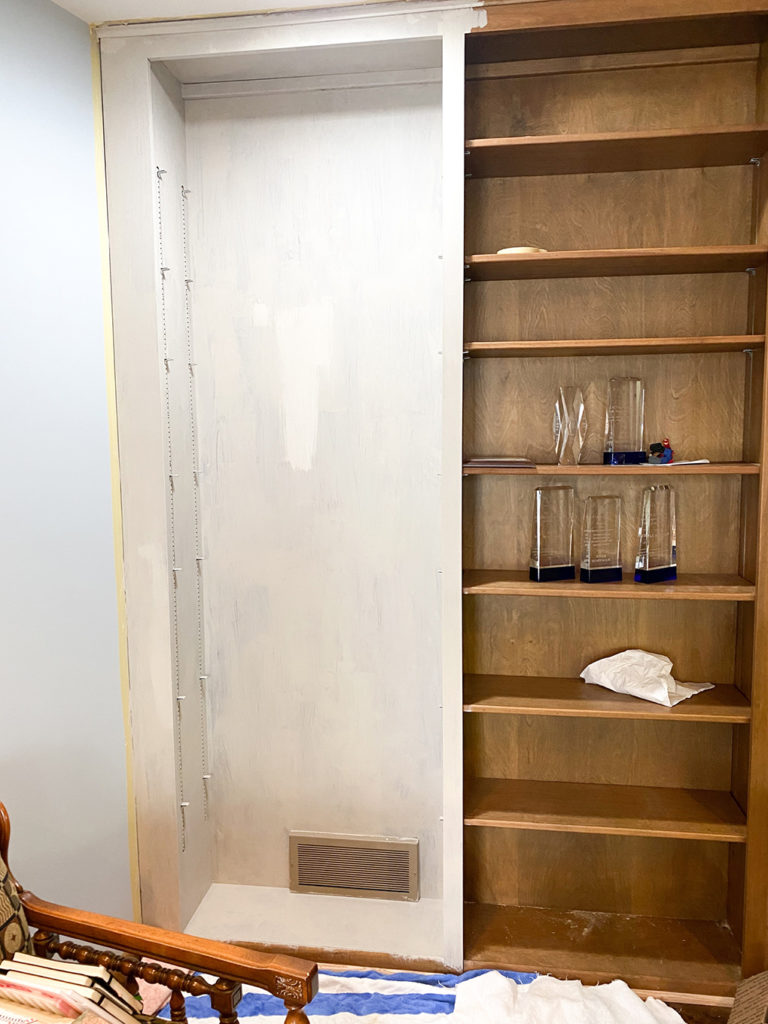 I mean, maaaaaybe my friends were right?
But again, there was no turning back at this point.
My mom ensured me that all painting jobs could be fixed if needed.
So I kept going.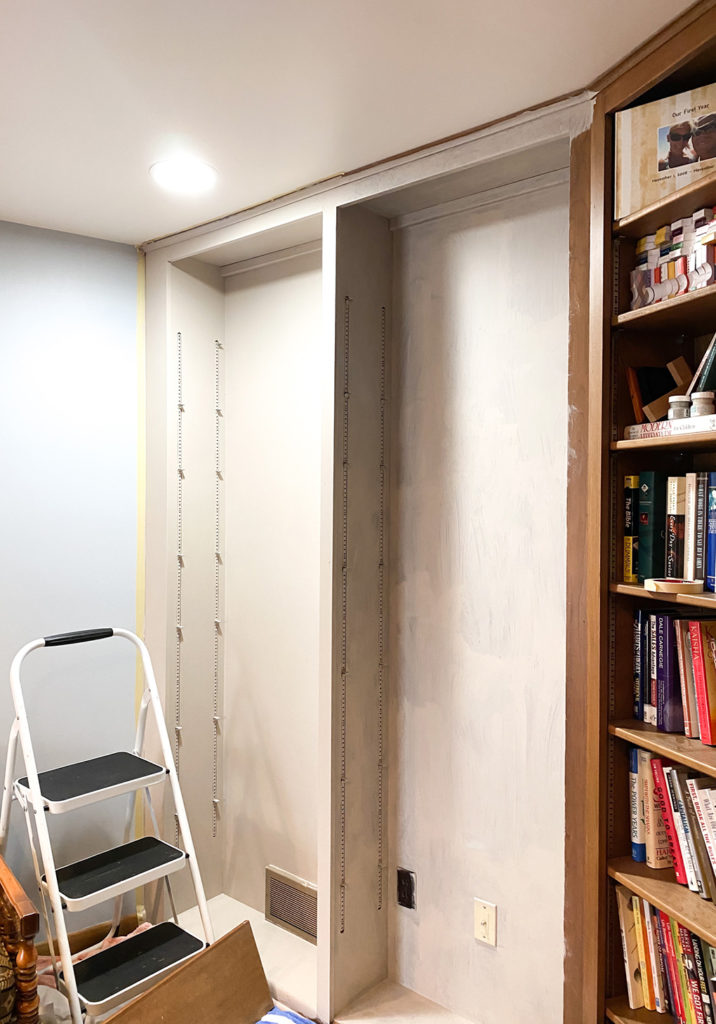 And it just kept on getting better and better and better……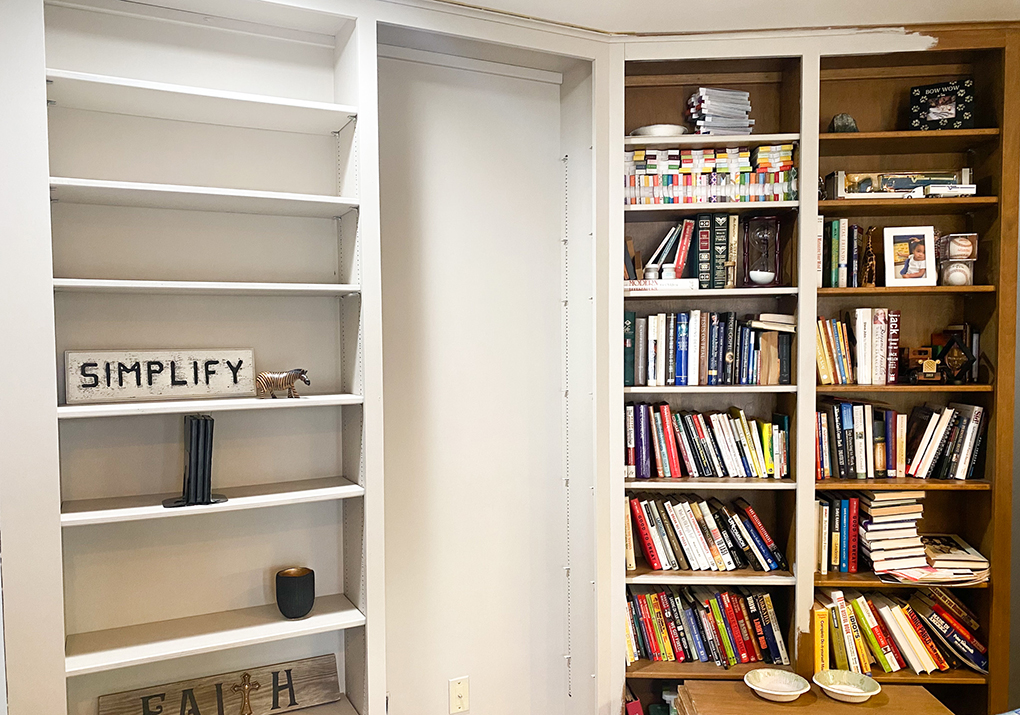 This is what the painted bookshelf project consisted of:
Clearing out all items from the current bookshelf. And there were so many! We donated most.
Cleaning the bookshelf. You can't put paint over dirt. Or so I'm told 🙂
Removing each shelf, one-by-one. Placing those shelves out in the garage.
Then, I'd paint an entire bookshelf column (there are 4 total).
Once that was done, I'd paint the shelves for the column.
And then, I'd return to do another coat of paint on the bookshelf followed by another coat of pain on the shelves.
Doing one bookshelf column alone could take a few days.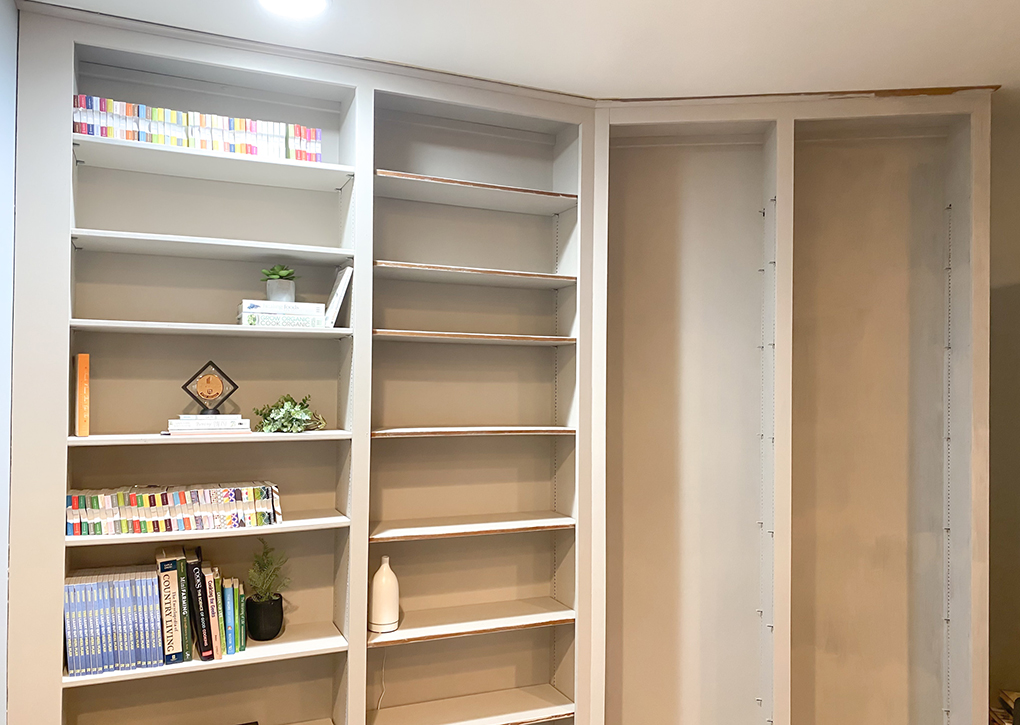 And then it was done, and I LOVED it.
More than that, here is what I loved most about the project.
Channeling Dad
Painting this mammoth bookshelf required a lot of time alone in the office with just me, some music, and Dad's old sweatshirt.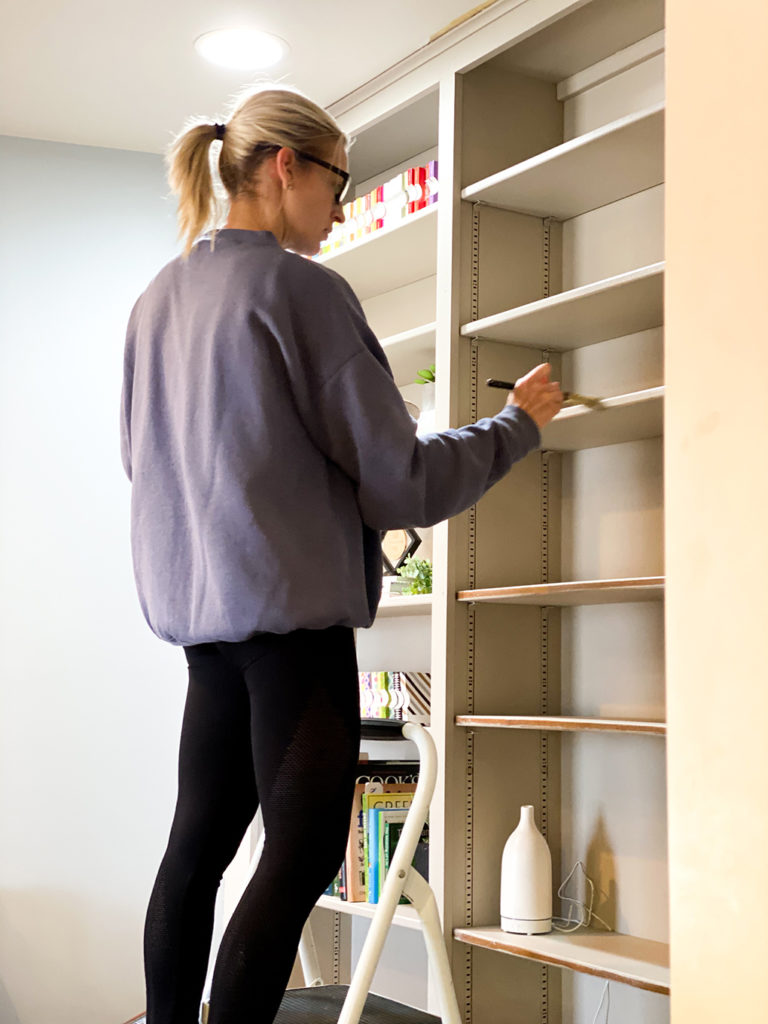 Every single time I'd paint, I thought of Dad…..and Mom, too.
There was so much joy in watching a transformation.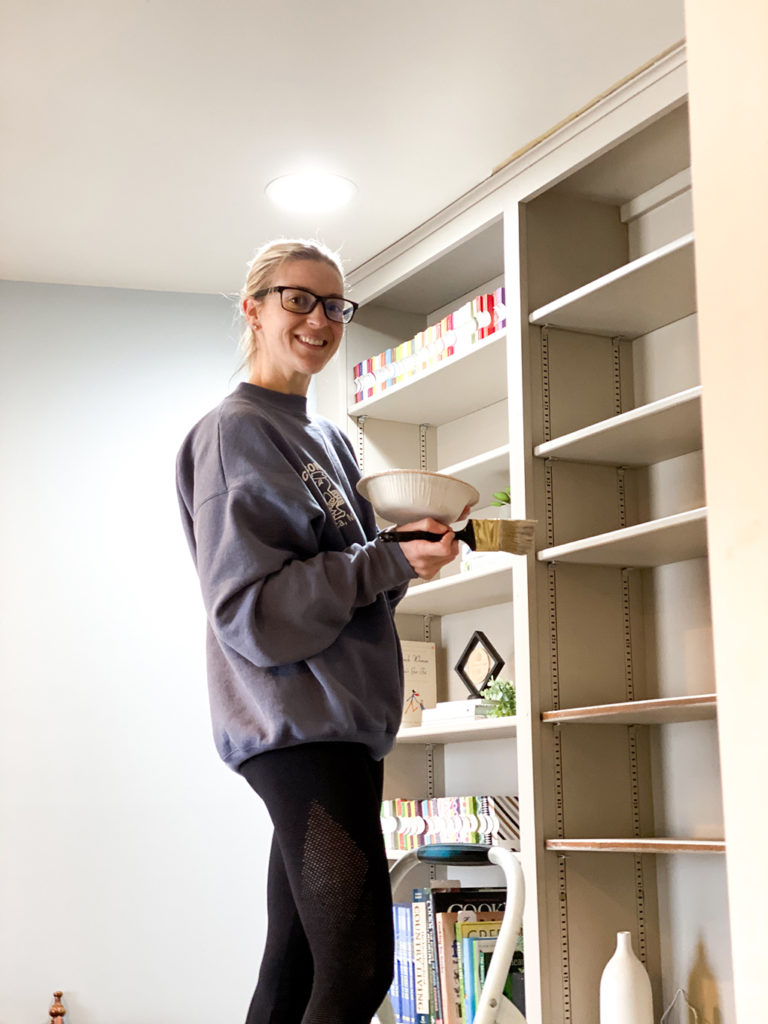 And here's the thing – when a piece like this bookshelf transform, so does something inside of you.
In this case, during this particular project, I caught "the bug" Mom has, and Dad had. Also, my brother JJ has it and is far better than I am. I've got a lot of work to catch up to him.
So today, while I can remember the sad story that was Stage 4 Colon Cancer, I also get to choose smiling because of Dad.
After all, I have a whole lifetime of projects ahead of me.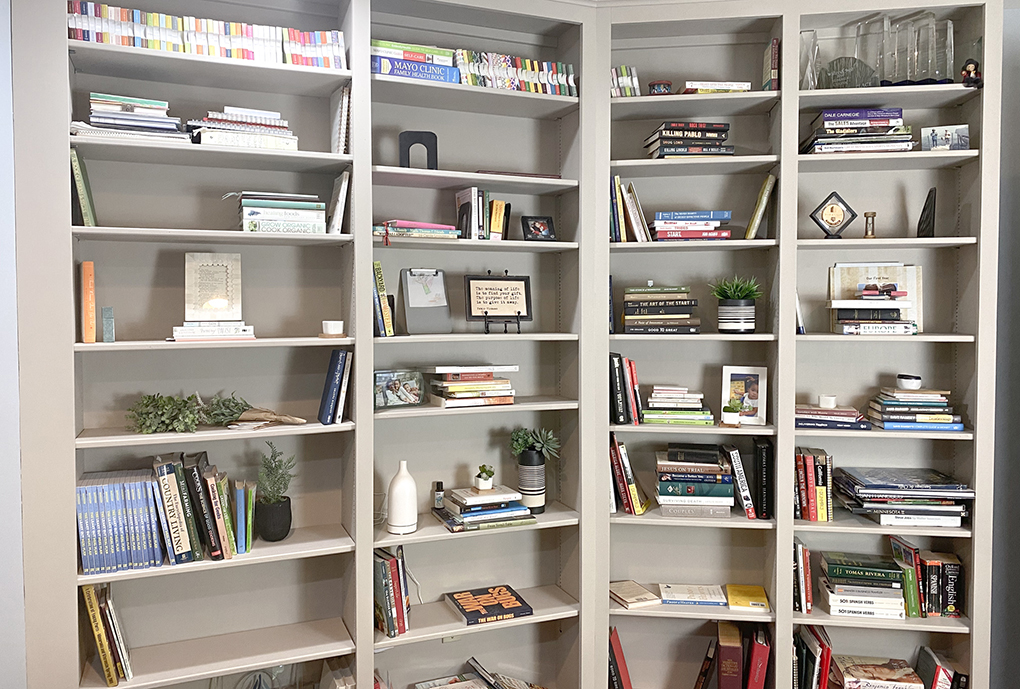 Xox,
SKH